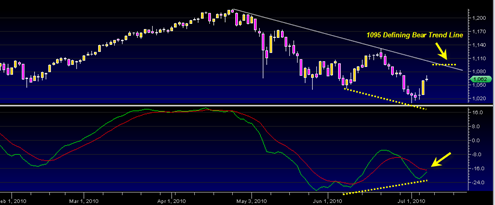 The 1095 level seems to be the line in the sand for the bear case at this point.  It is a simple down trendline but it is very important.  I mentioned yesterday about how we have a positive divergence in daily MACD versus price in the sp500.
It is an important divergence and shows that the recent price decline of last few weeks was on momentum only and lacking some conviction despite the bearish appearance.  The bullish divergence is not quite yet confirmed but it is pretty close.
The 1042 level was broken through yesterday with a big sign of strength but it was typically lacking in volume as usual.  A pull back to 1042 in the days ahead would probably still keep the bullish divergence intact.  The only thing at this point that would destroy is a very fast decline down next day or two that also breaks below 1042 again.
Assuming the market is able to hold its ground the next week then the next major issue is the 1095 down trending resistance which has up to this point been the defining downtrendline of the bear trend that began in April of 2010.  If we fail and start to break down again from 1095 (assuming we even get up that high) then it would suggest this bearish trend is intact.  But a confirmed breakout over this level is going to start to create some real doubt about the bearish trend.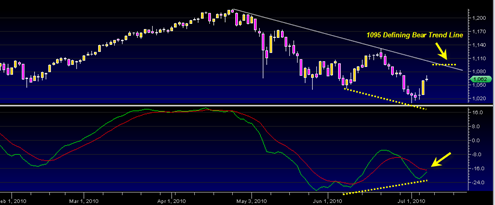 I stated before that the July 2009 head and shoulders topping 'fakeout' that some were comparing the current market structure to was invalid because the alignment of the 50 day moving average to the 200 day moving average in the current time frame was the exact opposite.  Now I am thinking that this statement is not really correct.  If price is somehow able to rally strongly enough and persistently enough then it could potentially cause the bearish 50DMA over 200DMA cross to be a false signal.
I don't know if it will be a false signal or a correct one (the 50DMA over 200DMA Cross) this time around, but the 1095 level is going to be one important guidepost in determining if it is a real signal or a weak one.