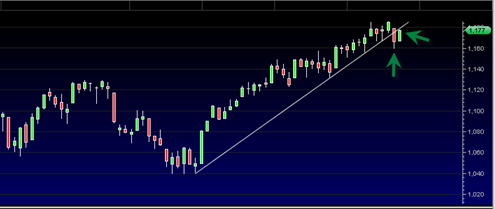 Today the Sp500 (so far at least) is rallying strong right back to the underside of the very steep up trend line that it broke down through yesterday.  This is pretty typical classic type upside reactionary action in this index.
Yesterday on the SPY we saw a downward break through of the up trendline on 280 million shares.  It will be important to see what the total volume is on the SPY by end of day today and mid day as it should help confirm or deny that this rally today is a 'bear kiss' of the underside of the broken up trendline.
If the total volume in SPY by end of day comes in at 200 million or less then I a going to have to view this as a confirmed 'bear kiss' reactionary rally back up to underside of the up trendline.
I think it actually better (for the bear case) that we rallied straight from the get go today (and hopefully on lighter volume) instead of having an early morning swoon down that went through yesterday's low.  Why?  Because typically one can see exhaustion moves to the downside when that happens and the development then of a reversal and longer upside reactionary phase.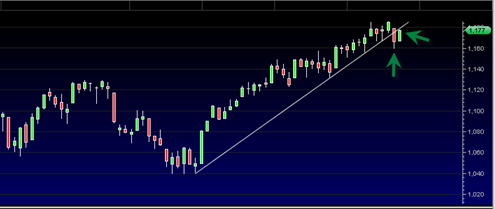 The fact that we rallied straight from the get go today tells me that the initial swoon down yesterday is not complete and could continue its path down rest of this week.
There is zero doubt that there exists at the present time plenty of traders who like to get the 'early short'.  The problem with this is that it can cause plenty of nervous short covering creating the type of rally we see today.
In my view the market is currently struggling to 'stay alive'.  Keep in mind that the closing price today is really the most important.  At the time of this writing the sp500 slightly busted above the up trend line.