Someone sent me a quick mention of ANPI in the submit news link at the top of the site here.  They indicated that the pattern was similar to the CTIC stock setup that I mentioned yesterday.  I just wanted to be sure to pass this info on to you and only make a few quick comments.
My quick take on ANPI is that yes it is similar, but for now I still think that CTIC has the stronger pattern and a cleaner pattern.  ANPI at first glance seems to have had a larger retracement and a somewhat more scattered triangle.  Anyway, no in depth analysis here but wanted to pass this info.  Maybe I will do a short write up of ANPI this week if it has merit.
I believe the same person also reminded me that EPEX was beginning to break out of pattern that I had written about before.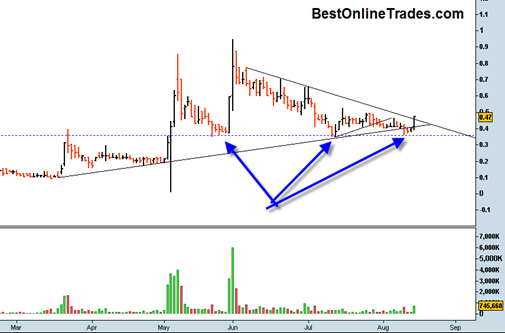 I am glad that they reminded me of this stock EPEX because I may have forgotten about it otherwise.  The problem I have sometimes is losing track of all the symbols I like to watch.  Yes I do put alerts on some of them, but occasionally a few do slip through the cracks.
But anyway EPEX still seems to have a positive structure here.  That shorter smaller up trendline that is near where the middle blue arrow points was the initial up trendline before I had this extra price data.
As it turns out we can see that price has drifted back down to longer term up trendline support and briefly pierced below this up trending support line.  But last Friday's action sent it peeking above the longer term down trendline and volume spiked up a bit.  I also see a triple bottom in price. And there also still exists the fact that the end of may price swing high blew out and tested the early May swing high on substantially higher volume.  That implies to me that price wants to return up there, and maybe exceed that level.
So CTIC looks like it is cooking something and now EPEX is starting to flash some positive signs here. EPEX bears close watching in my opinion.  If it can hold above .47 early this week, it could possibly see .70 to .80 cent range later in the week or the week after.
Volume will be key to watch on Monday in the am.  If it is weak and lame then this may be a false signal.  The first hour total volume and then noon time total volume are the key indications I like to watch for.