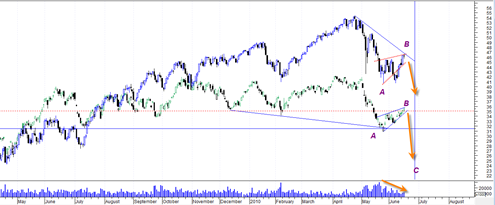 My impression of today's trading action is more of the same.  We are rallying on fumes (lighter and lighter volume) and it is an urgent warning to me that the market can retrace the rally that began on June 8, 2010 very quickly.  I still doubt that the next leg of the decline will start this week, but I suppose one could say that the heavy volume of options expiration this Friday could lead to unpredictable price action.  My take is that we somehow manage to stay afloat the next two trading days and maybe even blast up in one last 'hurrah' to close this week strongly higher.  But then next week ought to start down very hard and be relentless if my accelerated bear scenario is to stay in force.
A lot of price action (or price destruction) can take place in just 8 trading days leading up to the June 28th target date.  It seems too convenient that so many have forgotten the 1000 point 1 hour plunge that occurred in May.  I guess I cannot blame anyone as I cannot remember what I had for dinner last Friday either.  But my point is that this market can once again surprise with a speed that is unthinkable to even the most bearish of bears. 
If the June 17 to 25th, 2010 astro aspects are to have any real credibility then this market should start to show us something dramatic sometime next week and into the 28th. 
If we continue to see calm and uneventful price action that is just orderly and slightly higher trending into end of next week then something is probably serious wrong with the excessive bearishness of this post.
As far as a 'news event' needing to occur to cause the market do decline in a bad way again… I don't buy it.  The market is going to do what it damn well pleases no matter what the news is.  As far as I know the May 6, 2010 1000 point drop was not the result of some huge news event.  That decline 'just happened' and everyone was trying to come up with an explanation after the fact.  So I am not in the camp that we need some huge news event next week to 'cause' the market to drop. 
It might be worth keeping a close eye on the USO OIL ETF because the USO appears also to be rising in a rising wedge formation on very light volume.  The formation looks just about complete and it may imply that the USO wants to continue down in a B to C portion.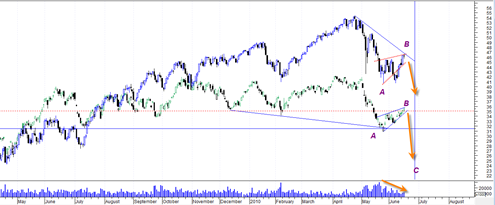 This chart shows the rising wedge in the USO and the sp500 plotted right above it. 
If the commodity collapse continues as appears to be the case from the above chart, then it would seem that equities should soon follow thereafter.  Strangely enough equities seem to be behaving somewhat like commodities lately and so it goes without saying that we should be seeing some huge swings in equities soon.