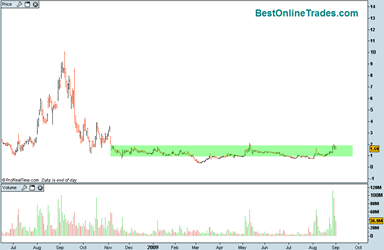 Ambac Financial Group has been trading in a sideways trading range for almost a year and has not managed to break out above the green congestion area shown in the chart (click on it for full size).
It is clear now that the broad market is in a corrective process and that we are likely to see lower prices in the weeks ahead.  How deep and long that correction runs is a mystery to me still at this point. 
I would expect ABK to get some sympathy downside from the broad market decline in the weeks ahead.  But at some point ABK may be setting up for an upside breakout out of this trading range.  The thing I like the most is the huge volume accumulation in the month of August.  It could be an early sign that a major new uptrend is in the works.
Still, ABK is very volatile and needs to work off some of the recent spike it just had. 
Another reason I like ABK is that we have recently seen an uptick in the Case Shiller Housing Values Index. (Chart from Carolan.org)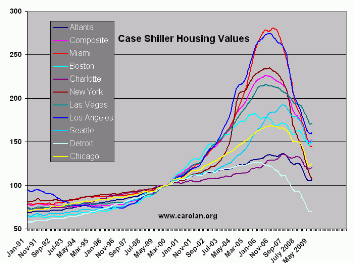 Housing values going up again could bring some momentum back into the real estate sector.
And because stock prices tend to be very forward looking, I would expect the run up to occur well before a substantial house value recovery is in process.
I would like to see ABK hold above 1.36 on the correction underway now and build an eventual breakout above 2.00. 
So ABK on the watch list for now and need to see how it reacts to the broad market correction.  But I do like the overall structure, the recent high volume advances and the attempt of ABK to build a large base and maybe at some point move out of that base.