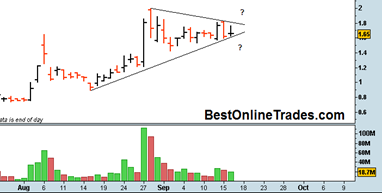 I still want to believe in ABK.  I don't know if we are going to get a breakout or breakdown this week, but we are still consolidating sideways after the huge move in late August.  This to me is a positive sign even though I made comments yesterday on how bearish the daily price bar was.
If ABK breaks down from here then this is a failed setup.  But as long as we maintain a sideways to slightly higher price trend then I would like to go long at 1.90 or higher.  ABK seems to have a habit of doing quick downside fakeouts and shakeouts before moving higher.  So I would not be surprised to see ABK slam down to 1.20 to 1.30 range in a one or two day shakeout and then a resumption higher.
If we do get a shakeout then I would prefer to wait and see ABK resume right back up into the apex the current triangle near the 1.70 level before making an entry.
ABK can be quite a tricky beast but I want to believe in ABK longer term and that is why I keep watching it.  Another reason I keep watching it is because other bond insurers have some real nice charts and breakout action and I would like to think that a rising tide will lift all boats.  RDN, PMI and MBI all have good price action.
Time will tell whether ABK joins the party.  Maybe ABK wants to wait until next week before any kind of real confirmation.