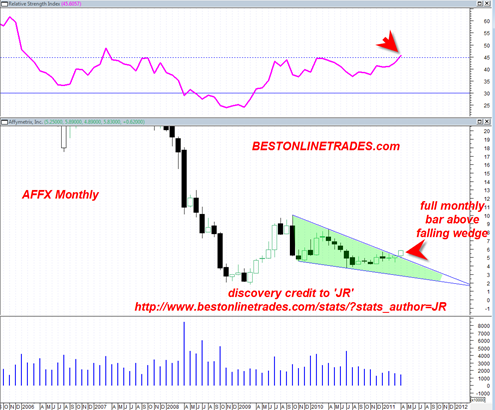 A very clever comment poster here at BestOnlineTrades named 'JR' has brought to my attention the AFFX price chart and I decided to take a closer look.
The longer term monthly candlestick chart of AFFX looks attractive enough to me for me to call it another 'big pattern trade'.  It appears BestOnlineTrades now has three choices for the next Big Pattern trade, HGSI, TLR and AFFX.  It is currently unknown to me at this time which is the best big pattern trade of the bunch.
The nice thing about Big Pattern Trades is that generally speaking there is more time and flexibility to go long these types of trades since they usually evolve over the weekly and monthly basis.
Anyway, AFFX appears to have broken out from a large falling monthly wedge pattern.  Monthly RSI looks constructive and seems ready for a bullish move above the 50 percentile line.
The April candlestick breakout in AFFX was not on huge volume or wide price spread.  This could be a short term concern, but the positive is that a full monthly price candlestick is trading above the falling wedge which should allow AFFX to start to trend higher from here.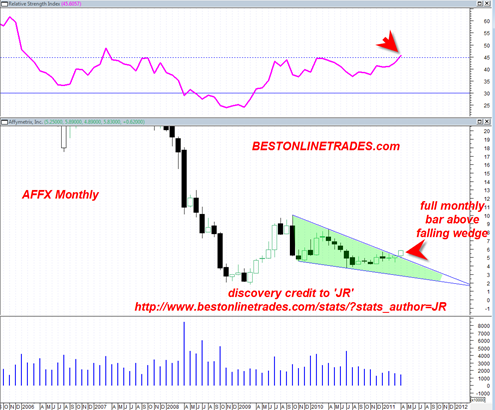 I think this is a good setup and a nice big pattern type trade.  But as I already mentioned I am not ready yet to compare it to the other two candidates TLR and HGSI.
When and if I exit the DBLE trade, I will try to make another assessment.
AFFX looks like it could be a multi month runner from here albeit an initially 'slow runner'.  It is common behavior for stocks to start their run slowly because confidence in the new uptrend is not with true conviction yet.
It should be noted that the monthly MACD histogram and quarterly MACD are also in a very bullish configuration.
Kudos to JR for this insight on AFFX.