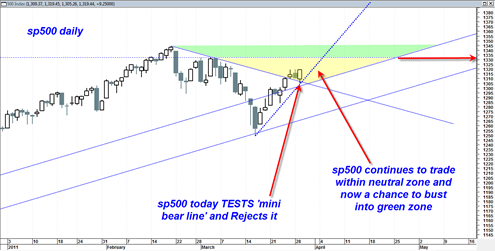 The sp500 continues to show near term trend strength and continues to trade within the 'neutral zone' I have referred to in previous charts.  Today was an important test of the mini bear trend line and a sound rejection of it if we look at the candlestick structure.  A closing on the highs and a small bottoming tail which reflects the test of the mini bear trend line.
The NYSE summation index is now in a more bullish stance and is close to trend strength which should support the upside over the next several days as we get into the end of the quarter (only 2 days away now).  End of quarter and end of month window dressing appears to be playing an important role this week.
I would not be surprised to see this market attempt a shot at new 52 week highs in a week or two.
The daily MACD is about to cross above the zero line, another bullish sign.  Of course volume was typically light on the advance which has always been a problem with this market.  I have learned the hard way to give price the benefit of the doubt over volume during up trends.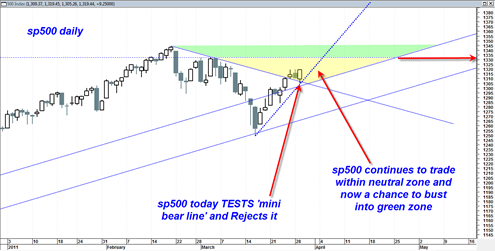 The daily candlestick on the sp500 also engulfed the previous two days candlesticks and closed at the highs which is another positive near term.
So it looks like an attack on 1332 is coming up this week.  I would expect at least 1 consolidation day at that level, and then it will be interesting to see if the sp500 can manage to trade in the 'green zone' which could set it up for new 52 week highs…