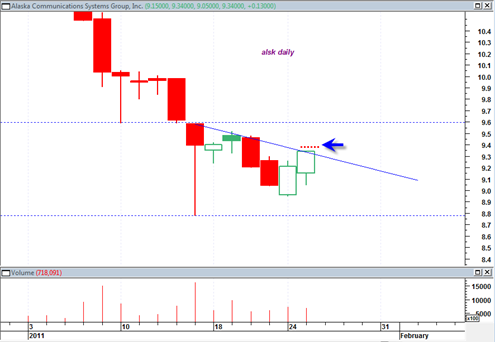 I talked about long bottoming tail candlestick reversals yesterday and I highlighted the stock ALSK as one that came up in my metastock scan.  I have been researching the topic and am trying to get a feel for how these reversals take hold.
It appears that ALSK should be ready for topside action right near the open tomorrow.  So this would be 6 full trading days AFTER the long tail bottoming reversal hammer candlestick for a buy trigger to occur.  It seems like an eternity, but the follow on price action of every hammer reversal candlestick is somewhat different.
The volume today in ALSK was quite robust and on the daily basis today we see a decent size bottoming tail as a shorter term indication of downside rejection.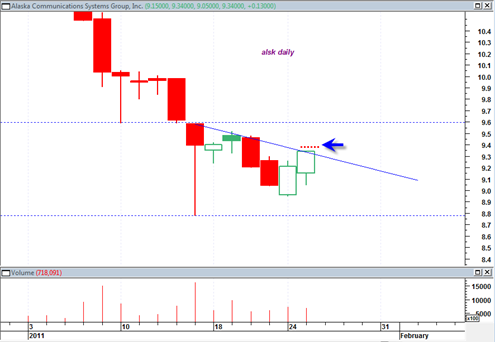 So it appears in the case of ALSK that we had a 6 day delay before a true reversal was seen assuming topside confirmation tomorrow over the blue down trend resistance line.
On some long tail hammer candlesticks one will see gap up openings the very next day.  On others like ALSK we see many inside days and consolidation.  But in this case the consolidation was NOT able to get all the way down to the lows of the bottoming tail.  I view this as a sign of greater strength than if it fell all the way to the lows.
Remember, the nature of the long bottoming tail is that we have witnessed on the shorter term basis a total EXTINGUISHING of selling power.  Once all sellers are out of a stock, it can only go one direction, up.
On today's hammer reversal candlestick scan the following stocks came up.
MGIC, PMI, RDN, MTG and CRS.   Four of them are finance companies and each of them show a reversal hammer that forms at an ideal spot, right at a previous support range.  I will track them and see how they behave the rest of this week.  CRS is a hammer that formed near the top of a price uptrend range.  All of these hammers are less than perfect in that they do not have the very long bottoming tails as those are exceedingly rare.  But this small sample size is still worth studying for a short term reversal.