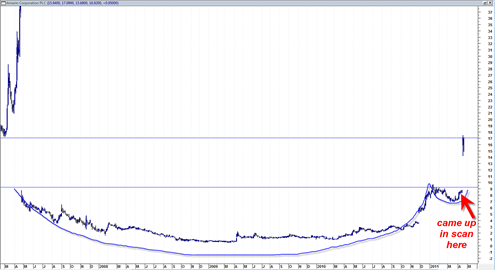 AMRN came up in one of my metastock scans a week or two ago and I failed to act on it.  It was actually a cup and handle scan and it also pulled up DBLE which I am currently long in.
It is unfortunate that I did not do a posting on AMRN as I look at the chart now it was maybe one of the best trading setups I have seen a long time.  I think part of the reason I did not do a posting on it was because it was a biotech stock with no revenue, 31 million in cash and had a 800 million market cap at the time.
Small and Mid cap Biotech stocks are probably famous for not having substantial earnings, but instead trading on potential and FDA approvals and milestones.  Perhaps they could be compared to exploration gold and other mining stocks.
Anyway a few days after AMRN came up in my scan I gave it a thumbs down despite the apparent massive positive cup and handle structure.
Sure enough a week or so later AMRN gapped up 100%. 
Is there a lesson here?  I am not sure.  Perhaps it is best to just trust the technical patterns regardless of what sector or industry a particular stock is in.  But in some cases, biotech stocks maybe need a higher standard, and one such higher standard is a huge pattern to trade out of, as was the case with AMRN.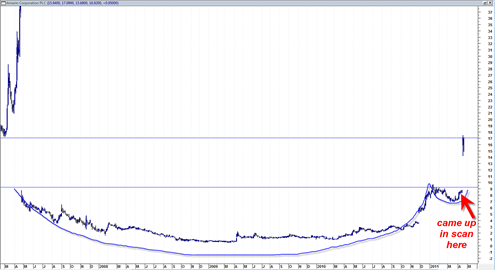 AMRN has a massive cup formation and then a huge unfilled gap.  The handle formed clearly.  The overall pattern was maybe 4 years of cause which is very powerful.  It is not too common to find stocks with cup and handles that exist over 4 years.