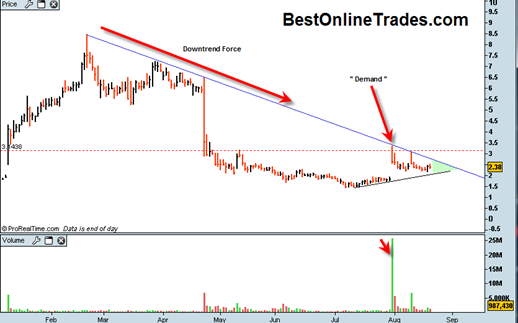 Here is another quick mention of ANDS.  I still think something interesting could potentially be developing here on the upside eventually.  ANDS is not 'timely' now because it probably still wants to fill into that green shaded area on the chart above.  But it may become 'timely' if it can get an upside break and hold above 2.70 in the weeks ahead.
I just like the fact that ANDS near the beginning of August was able to do a massive body blow on huge all time record volume to the 3 and change red dotted resistance line.  That price swing also tested quite a few previous swings and exceeded their volume by factors of 5 to 10.
It is a sign to me that we should be able to get back up to the 3 and change level eventually.  But first I think ANDS has a bit more churning to do.  In my previous post on ANDS I mentioned that there is a slight tendency to a head and shoulders bottom formation with the red dotted line as the neckline.  That pattern still seems to be intact although I would like to see the 2.18 level hold to keep it symmetrical as possible.
I am going to put some price alerts on ANDS and then see if I can do a follow up post on it when it becomes timely.  It seems like a decent possible setup developing here and will keep it on the watchlist for now.