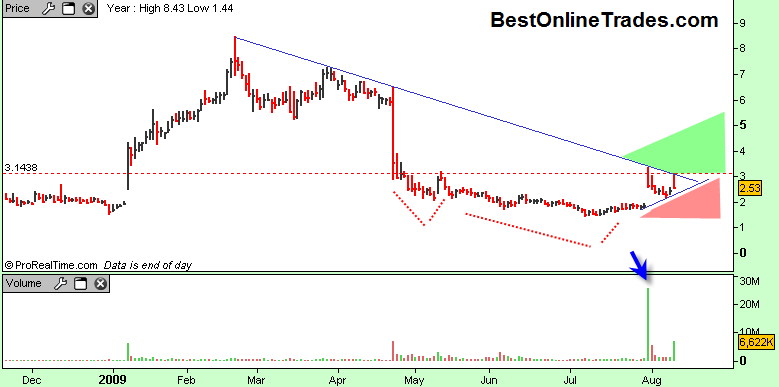 ANDS has had a couple recent big price moves to the upside, and the overall price structure is suggesting to me that ANDS could be setting up for a breakout.
After a brief strong run in the beginning of this year, ANDS went into a somewhat relentless decline to roughly 1.50.  It then had a pop up to the 3.00 range on blockbuster volume.  That pop was sold off intra day and today's upside pop was also sold off intra day.  However the overall structure of ANDS has some notable and constructive aspects to it.
Although somewhat messy looking there appears to be a head and shoulders bottom formation with neckline resistance at 3.14.  The left shoulder was around 1st May, the head from mid May to end of July and the right shoulder the last 6 trading days.  If I am correct in identifying this head and shoulders bottom, then we could eventually see 4.50 as a target.
The long blue down trendline is very significant and it is notable that the recent two hits on this down trendline came on very high volume and in my opinion have weakened the down trendline.  It is also the third attack on this down trendline, and many times on the third attempt you can get a successful break.
So you have a combination of a head and shoulders bottom and price approaching a break of a longer term down trendline.  The green shaded area on the chart (click on stock chart to see full size) is where price needs to go for a confirmed break of the down trend and a breakout from the head and shoulders bottom formation.
I think we could see price drift down to sideways for another week or so before something is decided on ANDS. 
I think it possible that the next time ANDS hits 3.14 it will be a breakout next time.  3.14 is the important resistance level that needs to be overcome.
The problem sometimes with these biotech stocks is their tendency to gap which make an entry before the breakout impossible.  Assuming I am correct about this heading for a breakout, I can't say whether it will be a gap or a gradual move into and over the 3.14.  It will be interesting to see how this one plays out.
I am going to revisit ANDS again as developments warrant.