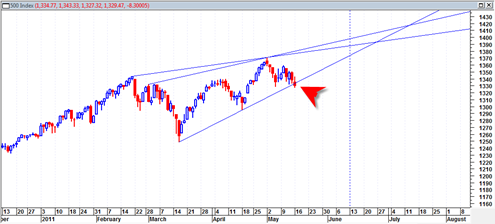 Today was another minor downside follow through day.  Not exactly the type of action I was looking for in terms of bearish confirmation.  Still, we did slightly pierce the up trend line since mid March 2011 and today is after all a slow trading Monday.
So we will have to see if the market can build some more downside momentum the rest of this week.  Monday's are typically slow especially in the summer months.
The daily candlestick today was sort of resembling an an inverse hammer which could lead to an upside bounce tomorrow, but I prefer to keep with the original theory that we are slowly building some steam for a further downside type move.  The summation index is starting to roll over and seems to be confirming more downside into end of this week.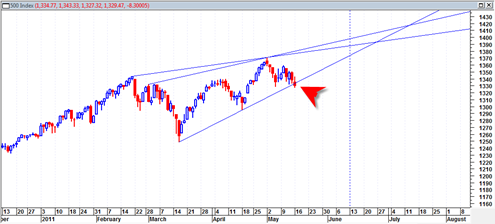 Technically the sp500 is still holding onto the support area at 1330, so we really need to start seeing some break down this week to get the ball rolling below support.  If not, then this could be a situation of the market holding trendline support.  Tomorrow is probably a key day.