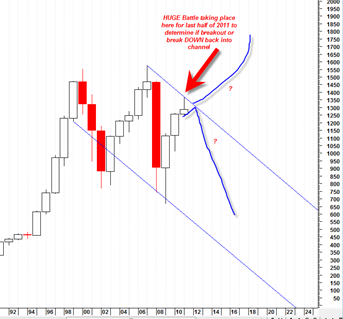 It appears as though today may be yet ANOTHER whipsaw signal on the sp500 delivered by yours truly.  The market cannot make up its mind whether it wants to go down or up and I am cannot either.  I am getting thrown around in the spin cycle of a washing machine.
Today was another good example why it is usually not a good idea to get a strong conviction during trading hours as opposed to the closing price and final message of the market.
The close today was a high volume shakeout reversal on most indices that printed a strong looking reversal hammer on a candlestick basis.
After today's close the upside is looking more favorable again.  What a difference a few hours can make!
But you know what ?  I would rather be 'light footed' giving multiple whipsaw bad signals as I have during the last 2 weeks instead of being 'heavy footed' stubbornly sticking to a bearish signal and then getting crushed and staying in denial when the market goes against me.  Light footed is a good thing sometimes.
I may have to switch back to a BOT long signal again depending on how things look into next week.
It is possible that the GDP could jolt the market higher tomorrow as follow through on todays powerful high volume shakeout reversal!
Here at BestOnlineTrades I am in search of the truth, the true direction of the market.  If it means I have to take multiple body blows for 2 weeks with bad signals then so be it… there is a price to getting the correct direction in the market.  During volatile trading ranges, timing is extremely difficult.  Changing ones mind frequently is good during this type of environment until a true new TREND develops.
Maybe the trend will still be up!  I will hope to identify it by early next week! 
What we are seeing play out right now is a TRUE BATTLE between bears taking control of the market and the bulls (and the current white house administration trying to get re elected ie. trying to crush the oil price ).
If we look at the yearly chart again we can see that the 2011 candlestick can turn into a very bearish reversal hammer, OR it can HOLD its ground for the remainder of 2011 and then evolve into an upside breakout through the top of the channel!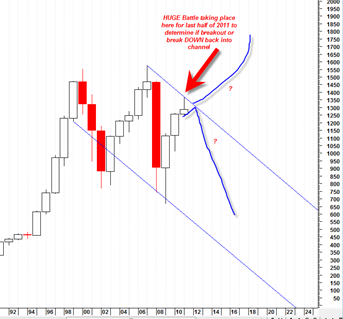 The recent volatility describes the battle that is going on in the yearly candlestick on the chart to the left.
If we are still bullish then the market will hold ground in the current range and then bust higher later this year.
But if bearish then the current reversal hammer will turn into a red candle and start to break down into 2012.
This is a huge battle!  Today's reversal has me thinking we could try to attack the upside again but I will see how the tape looks early next week for better clues.