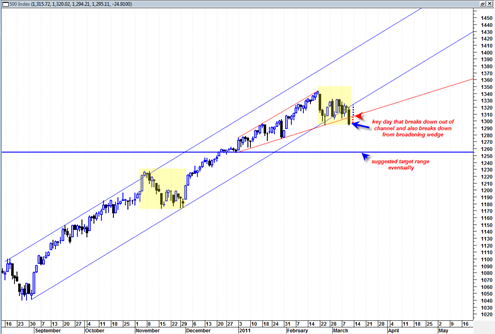 Today was a clear confirmation to me that we have switched from the massive bullish trend since late August 2010 to a beginning bearish trend.  In yesterday's post I pointed out the double inside day 3 day price pattern in the sp500 and said it would lead to a huge move either up or down. Today it was clearly down, closed at the lows and also had more than enough volume to go with it.
I think we could get some type of upward bounce tomorrow on some positive consumer confidence numbers but then maybe a sell off near the close.
A bounce higher tomorrow could reach two possible levels.  One level corresponds with the underside of the broadening wedge formation I have been talking about now for quite some time.  The other level corresponds to the underside of the up channel we just broke down through.
My preferred choice is that we bounce to the underside of the broadening wedge and then get stuck there for a while and then fail at the end of day.
The much more painful upside bounce level would be back to the underside of the channel we just broke down through.  The reason why it would be more painful is because it would completely erase all of today's short selling gains.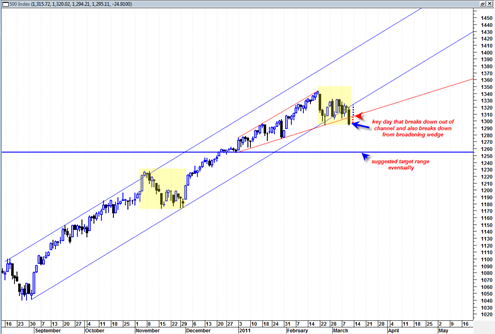 So again the preferred scenario is for an upward retracement to the point indicated by the red arrow in the chart of the sp500 above. I would look for any rally to run into a brick wall near those levels and gauge the market carefully from there.
The two yellow shaded areas are drawn in to show the uncanny similarity in terms of price pattern.  Both of them look quite similar. But how similar are they really?  They are actually quite different and here is why:
Both patterns look like a normal corrective process that is now finishing in the form of a double bottom.  But the most recent formation which we are in now is 'double bottoming' with a huge sign of weakness candlestick that was on equal or greater  volume than the 2/24/2011 and 2/23/2011 price low swings.  I am using the SPY volume as the gauge.  Today's volume in the SPY was 300 million shares, significantly more than the 227 or 260 million of the other two swing lows of 2/23/2011 and 2/24/2011.  To me that is a dead giveaway that the market will crack current levels.  Whether it happens tomorrow or next week is a mute point, it looks quite probable for a crack down through today's closing level.
The first pattern in November 2010 formed a finishing double bottom with a reversal hammer and then a doji hammer that was on dramatically lighter volume than the first price low swing of 11/15/2010.  In addition the 2/24/2010 final low price swing still held channel support.  Today's move broke down through channel support.
I have a running theory now that a good portion of next week should be down with a possible ideal low setting up for either March 18, 2011 or March 21st, 2011 which would be right on the full moon and one of the closest full moons we have had to earth in a long time.
It is almost too perfect a scenario, but by that time the RSI should be near the 30 level and significantly oversold.  Staying short after a week from tomorrow could be bad medicine since we already know the previous trend has been extremely powerful up.  So it would not be unusual for the market to make an important low end of next week and then zoom all the way back up for miles (or kilometers) before resuming any down trend.
The summation index dove lower today and the percent of stocks above 50 day moving average continued its bearish tendencies.  Also note that the RSI of the summation index busted down through the 50 percentile line which is a near term sign of significant more bearish price action (usually).
If there is a bounce tomorrow to the red arrow then it could potentially be a great re shorting opportunity.
Also today notably the US Dollar Index got a nice northward bounce and seems to be reacting nicely off of the long term 3 year support line I have talked about before.  This is an important reversal in the dollar and again seems to support more equity weakness in the weeks ahead.