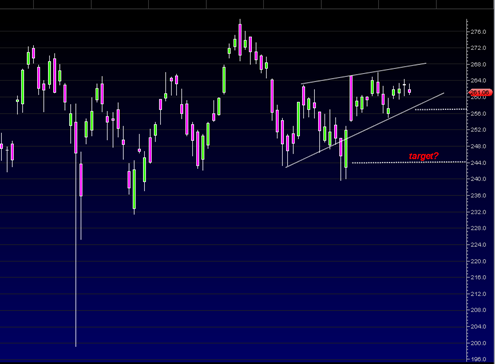 A comment poster recently asked me if I felt PCLN Priceline.com Incorporated was a good short candidate or whether Apple Inc had a better setup.  Before I even begin I should say that my first thought from a trading strategy standpoint was that it is probably not a good idea to short either of these two stocks.
Why?
The reason why is that these two companies are celebrity type stocks with massive earnings momentum and power.  That does not mean that the price will not go down, it can, but the overwhelming bias has been to the upside which puts the odds against you that you will be able to make consistent profits shorting them.
There really has not been any bearish news that I am aware of that would start to put a chink in the armor of these two companies.  For example a topline revenue miss, or some new competitor that will change the dynamics of how these companies do business.  Or some other internal problem with their corporate structure or management.  Absent any of these catalysts it can be difficult to get downside momentum going.
The Priceline.com upward gap yesterday on earnings looks quite similar to the huge upwards gap that Amazon.com had many months ago.  If you look carefully at how AMZN stock performed after that gap you will see that sometimes very large opening gaps do not get filled right away.  After AMZN's gap it went higher the next day and then only slightly drifted down for a few days and then went even higher after that.
Priceline.com Incorporated seems to be behaving in a similar fashion right now.  I think one common misconception is that a very large opening gap like the one PCLN did must get immediately filled.  These very high volume gaps are enormous signs of strength and demand and show huge positive forward momentum.  Shorting them right away is usually a mistake.
I think a much better strategy for shorting large opening gaps would be to prey on the less financially sound companies, perhaps in the small cap sector.  Ambak ABK comes to mind as that type of company.  Back in March 2010 it had a series of multiple gaps up but then completely retraced all of them because the company is struggling badly when it comes to its balance sheet.
If I had to chose one of them to short, it would be AAPL.  It looks like it is trading higher in a wedge similar to the rest of the market right now and also on low volume.  It looks like 257 is the price where a break down from the wedge would start to occur.
If the broad market starts to break down then AAPL could start to crumble a little bit as well.  However even if it does break down then it would still be very strongly supported at 243.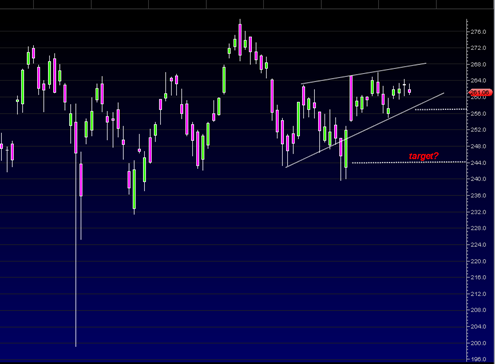 The month of August can very tricky because of low volume tendency in the market and lack of real commitment to either side.  So it would be best described as a swing trading type market right now.