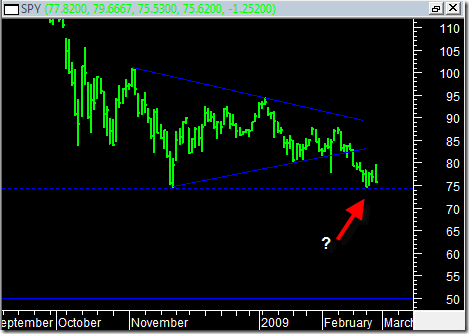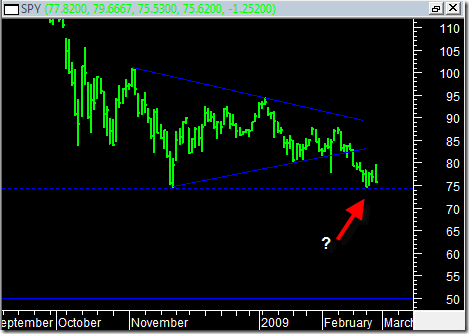 The S&P 500 SPDR ETF is sitting right now on crucial support.  There are a few ways to look at this retest and I have to tell you honestly I do not have a whole lot of confidence in either my bullish or bearish forecast.
If you put me up against the wall right now and forced me to give you an answer I would have to tell you that I believe we will break the lows perhaps on this upcoming Monday or tomorrow.  But in the same breath I will probably also want to tell you that volume is usually never wrong.  And a break of the November lows on significantly lighter volume could mean a very fast and violent quick reaction back to the upside faster than most think.
Here is the dilema I am having. On November 20th and 21st 2008, the SPY ETF made that two violent swing lows on 814 and 718 million shares respectively.  However our recent retest near those swing lows have been about half that volume.  That says to me that we do not have the energy to break through to the downside even though it looks like it wants to.
The problem is that the SPY ETF has not tested the actual swing low of the 21st yet and it is sort of hovering in a pocket right above the area trying to decide what to do.  I do not like the reaction we have seen so far off of this area.  I would much rather have seen a quick reaction that looked like it was hot to the touch.  In other words it would have been much better to see a wide price bar move that shows real demand is coming off of this support.
Instead we are seeing weak reaction and hovering right near support. Not a good sign. As you probably already know the Dow has already broken support but it was on also significantly lighter volume.  The nasdaq is the strongest right now but the volume was a bit heavy today on the downside, another bad sign.
So in summary the volume is saying that we are almost done with this decline and that support will hold. But the price reaction is saying we may bust through it.
The unbelievable part is that if we do bust through it there is a measurement from the triangle pattern that points to about 500. Or 50 for the SPY ETF. Not good.
Lets see what happens. We should know by Monday of next week I would think.