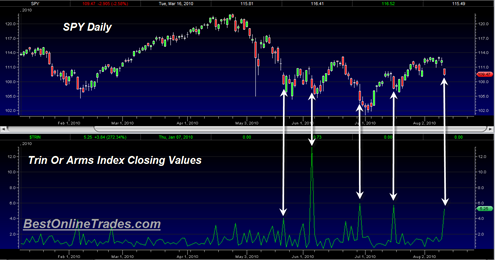 The TRIN or Short Term Trading Index also known as the Arms Index hit a spike high of 5.53 today.  The TRIN or Arms Index is a good short term measure of oversold and overbought conditions in the stock market.  Extreme closing values can be important clues about the possible next market direction.  It will be interesting to see what today's closing TRIN is.
In bull market trends you tend to see occasional spike high closing TRIN values that indicate a quick dumping of stocks in a shot gun type fashion that relieve the market from overbought conditions and then allow it to rally thereafter.
On June 4th, 2010 we saw a record extreme high closing value for the TRIN above 12.  Since then we have seen two more very high TRIN closing values above 5.  Whether or not we close above 5 again today remains to be seen.
The chart below shows the spike high TRIN closing readings and the relative state of the SPY at the time.  It is an interesting way to look at the market levels of overbought/oversold.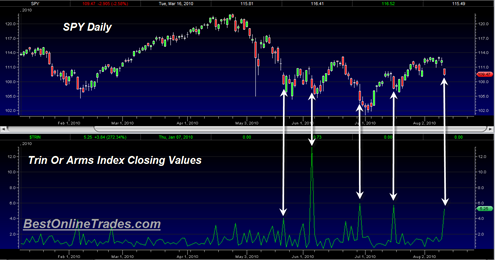 I am not drawing any firm conclusions from this chart, but it is interesting to note how quickly the TRIN shot higher right from the top of this rising wedge.  This could mean that today's decline is one of those 'shotgun' type declines without more extended staying power.
It would have been much better if the TRIN had stayed in the same stance as it looked in the late April 2010 time frame.  TRIN never really got into a deeply oversold stance until early June 2010.