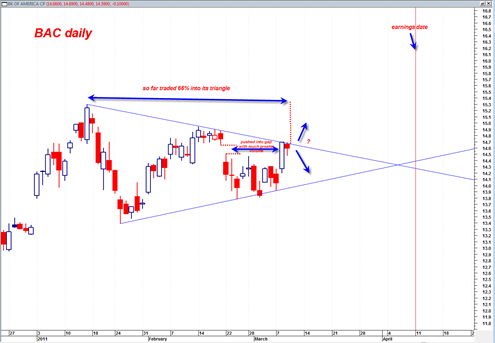 BAC is about to either break out north from a somewhat large symmetrical triangle or break back INTO its symmetrical triangle.  I don' t know which option it will choose but the bias seems to be for a breakout north.  The MACD histogram is about to bust north above the zero line and BAC had a volume surge yesterday.
Morgan Stanley has a target of 21 on BAC and BAC seems to have a lot of 'stake holders' interested in seeing it trade higher or at least be supported and stay afloat.
Seems like a potential good setup for a breakout and possible call option trade.
Clearly though it would help for the broad market to cooperate in the next two days.  If the broad market starts to break down tomorrow then any breakout in BAC may be put on hold.  Sometimes certain DJIA stocks just have a mind of their own regardless what the market does, just look at IBM today and KO today, both are hovering near their highs.  Whether BAC is strong enough to do the same remains to be seen but I like the setup and will be looking for a northward crossover above the top resistance line.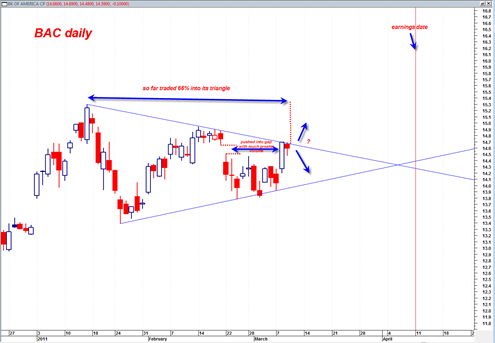 Not also that BAC blasted into its down gap on much heavier volume which is a bullish sign.  In addition note also that BAC has so far traded 66% in terms of time value into its symmetrical triangle.  Ideally one likes to see stocks breakout from a triangle at or before the 70% percent into triangle time.  Compressing further into the triangle can weaken and invalidate any potential breakout.