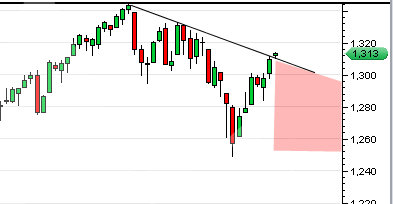 Today I have to initiate the BOT long signal again on the sp500.  The market has spoken and appears to be in absolutely no mood for more bearish price action at this time.
Currently the sp500 is trading slightly above its 'mini bear' down trend line and as long as price holds above this line today (and stays out of the red shaded area below) then the signal is still active.  I expect there to be some resistance at 1332 at which point we would likely see some selling pressure kick in again and that may then form a right shoulder of a head and shoulder bottom formation.
The revised GDP number today was certainly not a blow out number but it was not extremely disappointing either and that seems to be good enough for the market at this time.
The sp500 continues the pattern of using any slight decline as fuel for a new move up.  The decline gets the indicators into oversold mode and the market pounces on them as an opportunity to push them into overbought again.  This pattern has been in force for a long time now.  Will it ever end? Of course it will, but when is the key question…