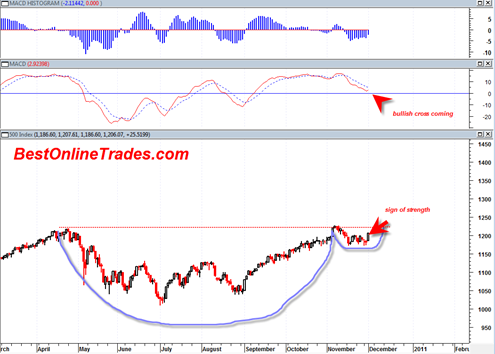 Today is the type of day in the market that almost needs no explanation because of the somewhat obvious signal being sent.  Today was a clear sign of strength in the market and the closing candlestick was almost a marubozu candlestick which shows clear strength and a persistent close.
Today's action seems to seal the case that we are now forming the right portion of the handle of a much large cup and handle pattern.
We continue to hear bad news out of Europe and the occasional rumblings out of North Korea and yet the market just keeps going higher and higher.  I wonder why?  At this point the message should be clear that the market does not care much at all about the sovereign debt problems in Europe or even the USA for that matter.  In fact the sovereign debt problems may actually be a reason to move INTO stocks as opposed to out of them (according to Marty Armstrong anyway).
The cup and handle pattern I have been discussing for a while now appears to be ready to activate and should mean between 100 to 200 S&P points to the upside.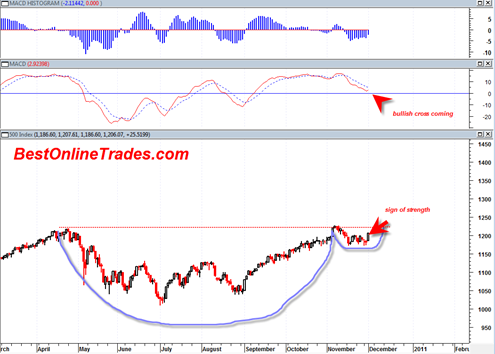 As far as I am concerned the correction we have seen for the last 3 weeks is over as of today.
The monthly November 2010 reversal hammer is clearly not showing any signs that it will be bearishly confirmed unless the market completely falls apart the rest of this week which looks unlikely.  This monthly reversal hammer is starting to look like it will be a false signal and was merely a consolidation candle represented by previous sellers at the April 2010 highs.
So, back to the BOT long signal again as of 1201 in the sp500.  I suspect that this BOT long signal is going to stay active for quite some time because of the potential magnitude and measurement implication of this pattern.
In truth I probably should never have switched away from the long signal that I issued way back in Early September 2010 because of the long term bullish prospects and my much earlier observations that the market trend is very strong because it only did a 38% retracement from the March 2009 lows.  That is water under the bridge now, but I want fewer and cleaner signals and would like to stay with the trend as long as possible while at the same time avoiding trying to catch every 1 to 3% down move.
At this point I think it is fair to say that the Christmas 2010 rally has arrived.  Buckle your seat belts…