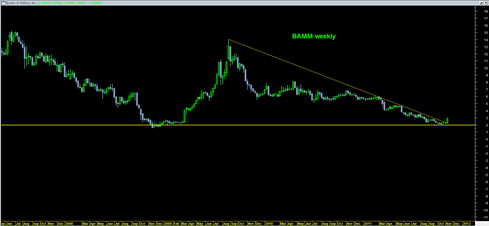 BAMM Books-A-Million, Inc. is a stock that came up on one of my Metastock scans as a price and volume breakout stock.  This is a small cap stock and seems to be the alternative to Barnes and Noble.
The stock has been in a bear market for a long time but the weekly chart shows that it has as of this week busted a move north in a positive sign of strength. So far however the volume on this weekly move has not been stellar.
There are a few things going on here.  Possible early January small cap effect.  Also sympathy move from Barnes and Noble recent break up move.  And BAMM has also drifted back down to long term support range and one typically sees a bounce after support is tested.
I think BAMM could go higher, perhaps into the 5 range as we move into end of year.  It would be ideal to see BAMM finish the week tomorrow strong and close near the top of the range which would set up a possible continuation week higher next week.
BAMM has a tiny float and can move fast.
Weekly MACD is positive and turning up towards zero line.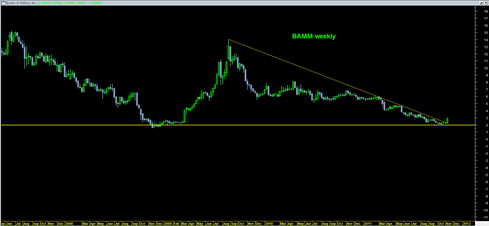 I think we could see some downward retracement action tomorrow but maybe BAMM would be bought up into the close.  The action tomorrow will be very key in determining the follow performance next week.  BAMM one to keep an eye on as we move into Thanksgiving…