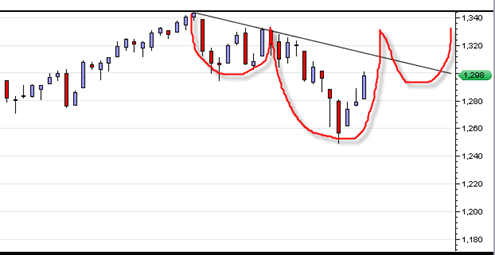 The bearish case I have been ranting about in the sp500 may be dead as of today.  Especially if we close near the highs.  If we close above 1300 it could mean a swift move up to 1330 and only THEN some type of retracement which would lead to a right shoulder forming of a head and shoulder bottom formation.
This market has been characteristic of blowing the bears away and in true form seems to want to do it again.  Whether or not it can accomplish this by the close remains to be seen.
The way that the Nasdaq 100 has been retesting its 2007 highs was definitely a concern for the bearish case.  Why?  Because it could simply have meant that the decline is over up to this point and a simply retest of the 2007 was at hand.  Today we see a strong reaction up off of this retest and it really does cause issue/concern with the more bearish case.
There is also something else going on now, namely the US Dollar index.  It has broken down badly out of a 5 year symmetrical triangle formation.  This means that equity and commodity prices are likely to be supported.  This is basically the same pattern that has been happening for a long long time now.  It will probably mean that the DJIA will be able to get to very large numbers while the real buying power of that number is maybe cut in half.
The 'system' wants to pump this market higher ad infinitum to get the president another 4 year term.  This is a massive inflationary push maybe never before seen in history.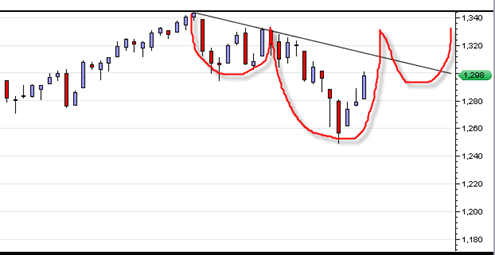 I am switching back to a BOT long signal above 1317 on the sp500.  It is true that we are still in a down trend from the top of 2/18/2011.  This down trend channel has not been broken yet, so it could be that we will stay in a bearish trend but with high volatility in both directions.    But anything above 1315 to 1217 and that down trend line will be compromised.
Sometimes the first bearish trend off of a previous very bullish trend is very whipsawing.  Some are saying the current top is the same as the 2007 top formation.  I am not so sure about that.  I think there is a decent chance now that the entire decline is over and now it is just back and fill and then break out to new highs 'eventually'.
Maybe the close today will show something different but for now this has to be my take…