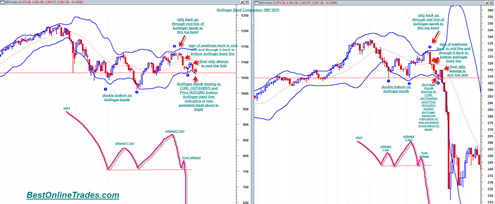 Here is the Bollinger Band comparison chart between the time periods 1987 and 2010.  The time similarity does not exist whatsoever.  I am only trying to identify the overall pattern similarity irrespective of time.
The chart below pretty much does the talking.  The market in both time frames does a double bottom on the lower Bollinger Band line and then goes up and through the mid line for a final rally attempt which fails at the top Bollinger Band line.  Then a big sign of price weakness breaks the market back through the red dotted mid line again and price finds short term support at the bottom Bollinger band line in the form of reversal hammers.
Then one last very minor rally attempt is done back towards the mid dotted line but that fails and leads to a very sharp decline that is indicated by price hugging the bottom Bollinger Band line.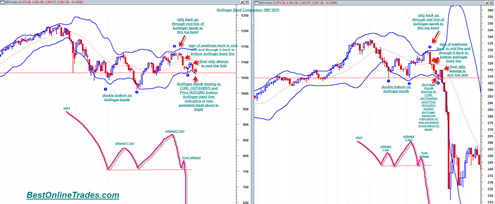 The expansion (curling outward) of the Bollinger Band lines begins to occur right now in the 2010 time frame and is an indication of a volatility expansion that is about to start.  Of course we already know the volatility expansion that occurred in 1987.  Whether or not we get the same degree of volatility expansion now remains to be seen. . .