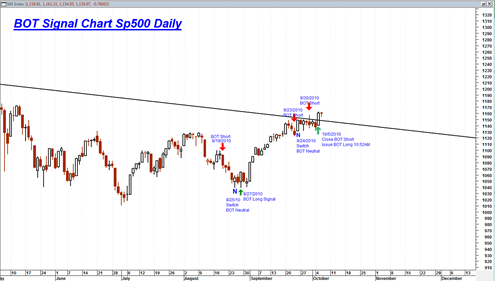 I just went through all of my previous postings back to mid August 2010 time frame and wanted to see if I can label the sp500 correction with BOT short, BOT long and BOT neutral signals based on what I was saying at the time in the postings.  I did not want to go back farther than that because I don't believe I was using the verbage of 'BOT Short' or 'BOT long', so it will be too difficult to identify specific points with arrows.  Maybe I will try to do that another time but for now I am keeping this tracking active as of mid August 2010.
It was interesting to go back through some of my old postings.  I can clearly see where some mistakes were made and after looking at the sp500 chart and then reading my reasoning, in some cases I was quite surprised that I was even thinking those thoughts at the time.  Also it once again becomes very clear that I need to respect my initial observation and not violate it.  For example I said I would not issue BOT short signal unless a break under 1120, but then when the futures were down heavily pre market the next day I did it anyway.
I am going to try to maintain the integrity of this chart now going forward.  I cannot guarantee that I will keep updating it consistently with signals regularly, but for now I intend to do so.
The signals should be self explanatory.
BOT Short is a short signal and expects downside price action in sp500.
BOT Long is a long signal and expects upside price action in sp500.
BOT Neutral is no real conviction in either direction.
These signals do not necessarily mean that I will actually have a long or short position in the sp500 or ETF or inverse ETF.  Sometimes I may,  sometimes I may not.  Or I could be in something that is a different form of long like a stock or option. 
Probably many times I actually will have a long or short position but I cannot guarantee that I will and I also cannot guarantee that I will remember to mention the fact within a posting.
Still, when I issue a BOT Long, BOT Short or BOT Neutral signal I am making a commitment mentally (hopefully not too emotionally 🙂 ) towards that signal and marking it firmly on the sp500 chart along with the date.
Consider this a little bit of an experiment.  I have no idea how this is going to look over time.  I may get a few great signals, or I may have a consistent amount of egg on my face from whipsaw signals all over the place.  But you know what?  That's ok.  I am open minded here and will attempt to be humble.  The point is to try to learn something over time and I welcome that endeavor.
I never previously made a point of following the sp500 index closely as I have been over the last 6 or more months.  It has been quite an interesting learning experience.  Definitely I think tracking the indices themselves takes a lot more patience than individual stocks for example.  The indices are after all an average of hundreds of stocks and tend to move in smoother fashion than volatile individual stocks.   However, obviously sometimes when enough stocks are aligned bearishly or bullishly the market tends to move with more pronounced swings in both directions.
So here is the chart so far with the most current signal and the start around mid August 2010: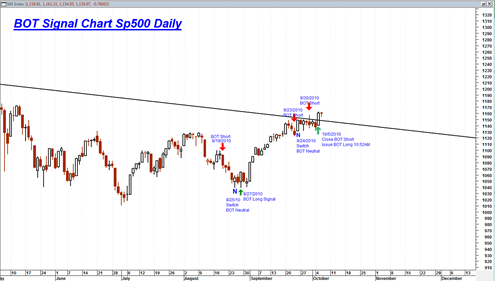 To construct the above chart I went back through all of my postings since mid August 2010.  You are welcome to do the same to correct any possible errors on this chart but I am going with this now after reviewing all the postings.
Here is a list of relevant past postings and some side commentary next to each one.  The date of each posting link below is shown for example in the first link as 20100819 which means August 19, 2010.
http://www.bestonlinetrades.com/20100819/putting-the-astro-hat-on-again-to-see-a-big-plunge-into-26-of-august/  short
http://www.bestonlinetrades.com/20100825/closed-out-shorts-today/ 
closed out shorts and neutral
http://www.bestonlinetrades.com/20100825/spdr-sp-500-etf-spy-fails-to-test-swing-lows-on-increased-volume/ 
talking about going long and bottoming signals but not long yet
http://www.bestonlinetrades.com/20100827/key-technical-analysis-event-taking-place-right-now-in-iwm-etf/ 
"maybe one of the most important posts I Have ever written here at BOT"  Best Online Trades is going long here based on the current setup and our indication before that we would do so assuming a confirmed MACD Histogram buy signal on the IWM
http://www.bestonlinetrades.com/20100830/whip-saw-city/  
If I am correct then we should start to see some big signs of strength soon this week in the form of 20/20 candlestick bars also known as 'belt hold candlesticks (wide price spread and closings near the highs).   Still, I am a very fearful long right now, but I will pull in my horns should the market tell me to do so in the days ahead.
http://www.bestonlinetrades.com/20100907/sp500-sitting-right-under-bear-market-resistance-line/
I cannot think of any good reasons to be bearish right now.
http://www.bestonlinetrades.com/20100909/today-might-be-the-break-out-day/  expressing continuation and symmetrical triangle shape and above first resistance line
http://www.bestonlinetrades.com/20100909/no-breakout-today/ 
I will go long the TZA tomorrow morning assuming there is an indication that the market wants to open weaker and if I see indications that the sp500 will get back to 1100 and stay under 1100 for most of the day. *But it never happened.. so, still long signal*
http://www.bestonlinetrades.com/20100910/russell-2000-to-show-the-way-early-next-week/ 
There was no reason to go short today.  In yesterday's post I pointed out that I would go short if an only if we get and stay below 1100.  This did not happen at all today.
http://www.bestonlinetrades.com/20100913/market-reaction-from-march-2009-trendline-shows-positive-trend/ 
Confirming Bullish Trend off of Trendline
http://www.bestonlinetrades.com/20100915/spy-etf-sitting-right-under-the-creek/   The SPY ETF looks like it is getting ready to 'jump the creek'
http://www.bestonlinetrades.com/20100916/trying-to-come-up-with-a-reason-why-sp500-should-fall-from-here/
I could be wrong but I think I have to maintain the long bias here(written in bold type), and that the recent dojis and small bars are the market 'chewing' through previous resistance without much price give back.  I am thinking that the market is absorbing the sellers into the current resistance range.
http://www.bestonlinetrades.com/20100916/uup-etf-and-us-dollar-index-continues-to-look-bearish/ 
Comment on US Dollar Index Bearishness leading to topside action in equities and gold.
http://www.bestonlinetrades.com/20100918/monday-looks-like-an-important-trend-change-day/ 
So I am flipping the signal to short on 9/20/2010 if we get a gap down and/or close below the 9/17/2010 sp500 low.  If a shooting star candlestick forms and closes below the 9/17/2010 low then I would also flip the signal to short. A gap up higher and close higher would keep the long signal intact. *note signal did not happen, so long signal still intact*
http://www.bestonlinetrades.com/20100922/kbw-bank-index-bkx-looks-surprisingly-weak/ 
I am becoming open minded to this possible factor now.  I am going to allow the sp500 some leeway for a normal pullback to support, but I am going to flip to bearish immediately if we get a close under 1120.
here is where i was starting to become bearish and concerned.  But Had I taken my own advice in *bold type* I would have never even considered a BOT Short signal.  We never closed under 1120!
http://www.bestonlinetrades.com/20100923/the-sp500-futures-pointing-to-weak-open-today/ 
The sp500 Futures are down significantly this morning.  It is looking like we will get a close under 1120 today, or at the very least some type of weak close.  I have to switch to BOT short signal right now as of the open today.  Momentum appears to have shifted from up to down and there there is growing evidence of a trend change.
big mistake !  I gave too much credit to the futures! who cares about the futures!  the sp500 never closed under 1120 as was my original criteria. But I issued the BOT short signal anyway.
http://www.bestonlinetrades.com/20100924/a-perfect-wyckoff-retest/ 
I am closing out the BOT short signal and switching to neutral on the premise that today will prove this support area and then possible lead to continuation.
http://www.bestonlinetrades.com/20100924/sp500-completely-evades-weekly-gravestone-doji/  I am re instating the BOT long signal as a continuation long signal as of Monday's AM opening in the sp500.  The fact that the market rejected any ideas of potential downside so strongly is a signal within itself not to go short here.  The tape is saying it wants to move higher.
http://www.bestonlinetrades.com/20100930/issuing-bot-short-signal-right-now/ 
I am officially re activating the BOT short signal right now.(bold type)
http://www.bestonlinetrades.com/20101001/sp500-prints-another-up-day-no-sell-off-yet/  
But I am still holding onto the possibility that we are on a 'delayed short signal' with the market just drifting for a few days before it gives up.
http://www.bestonlinetrades.com/20101005/closed-out-all-shorts-on-the-sp500/    I am cancelling the BOT Short Signal and now immediately switching to a BOT Long Signal at the current time which is 10:40AM Eastern time and a price of 1155 on the sp500. (bold type).
End.
So the signals look pretty good so far.  The presence of signals right on the chart should help remove any confusion about where my mental commitment stands with respect to the market.