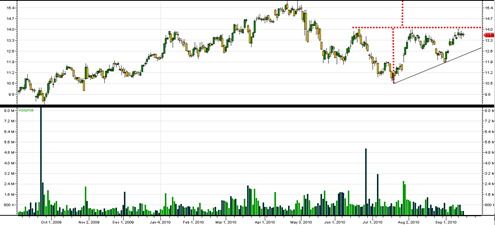 Someone asked me some time ago whether or not BRKR was a good buy or not on August 4, 2010.  I wrote up a post on it and indicated that it was probably due for some type of pull back first that would maybe create a cup and handle formation.
As it turns out Bruker Corporation has obliged and done something similar.  It looks like it has a head and shoulders bottom formation that has a price projection to new all time highs.
BRKR needs to start printing 1 penny above 14 for some type of breakout activation to occur.  There is a decent volume relationship as well that shows the top resistance range should be eventually broken through.
This is not a super fast mover but I would think at least a point can be squeezed out of BRKR from 14 to 15 or about 7%, if it can activate above 14.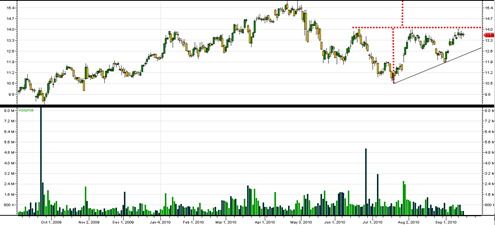 The longer term chart of BRKR in the link at the top of this post is really quite amazing as it shows a truly massive potential head and shoulders bottoming formation.  The problem with that truly massive potential head and shoulders bottom is that it is not forming after a long market decline.  Instead it is formed after a long market advance.  I am not quite sure if the interpretation is still as valid.  Some caution is necessary in the interpretation of the larger pattern.