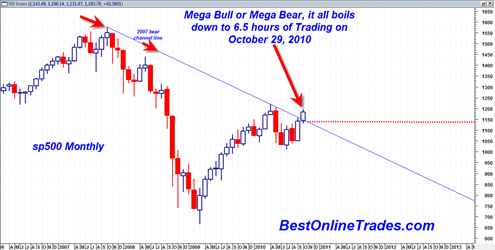 The sp500 today did not confirm yesterday's potentially bearish hanging man candlestick (sigh).  Instead the bear forces which almost seem non existent as of late were not even able to print a lower low compared to yesterday's low.
There is now only one trading day left in October 2010 or 6.5 hours of trading which will print the final monthly October candlestick.  I mentioned in a previous post that in order for us to build much better odds of a weak early November it would have been ideal for us to get back down to near 1150 on the sp500 (or even better 1143).  So now with just one day left and GDP coming out in the morning one has to wonder if the market will be able to print a 2.83% decline in just 6.5 hours.  It looks very improbable unless GDP comes in as a total bomb showing negative growth.  If we get a 2.5% down day tomorrow it is going to be one of the biggest odds breaking moves I have ever seen in my lifetime with respect to the markets.
The reason why I have been so obsessed with 1143 and 1150 on the sp500 is because on the monthly October candlestick they define an area that represents a northward breakout from the long 3 year bear trend resistance line.  If we hold ground tomorrow near 1180 then it will complete the October 2010 monthly candle as one which closes at the top of the monthly range and achieves a monthly closing above the long bear trend resistance.
In other words it would be a clear signal the the breakout is real and a new bull trend should have plenty of more legs into end of year and perhaps longer.
It would also confirm a bullish triple P buy signal on the MACD histogram chart.
But if by some super miracle we can get a close at 1143 or 1150 tomorrow, then it would possibly invalidate this entire October 2010 breakout and potentially set up a very bearish first couple of weeks of November.
So it would seem everything is riding on tomorrow.  I have seen markets retrace low volume advances sometimes in just ones day's time.  It can happen.  But if it does happen I am simply going to be awe struck.  It would hands down be the most deviant market action ever devised in my opinion.  That is how the trading dynamics are set up.
Perhaps I am being overly dramatic.  But I have to be.  Why? Because this is exactly how the trading dynamics are lined up.  I can't change them.  All I can do is obey them and respect their signals.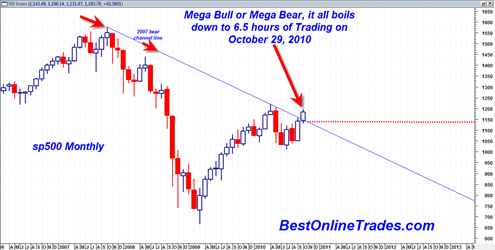 The chart above clearly shows the trading setup for end of October 2010.  The red dotted horizontal line is where we need to close to give the bears a huge surge of confidence.  It seems extremely unlikely it would happen in just one day tomorrow.  But it is what needs to happen in my opinion to keep the Mega Bear Scenario alive and kicking.
If it does not happen then I am reverting back to the intermediate to longer term bullish case.  I will not switch to a BOT long signal however until I see the DJIA close ABOVE 11,266.  When and if that happens, then I will switch to BOT Long Signal on the sp500.  But for now I will keep the BOT short signal alive.
The summation index and percent of stocks above 50 day moving average continue to show a market that wants to fall back.  Contrast that today with the SMH semiconductor index breaking out above key resistance levels.
Lastly I should say that if I just started to analyze the market today from a fresh viewpoint I would have to say that the longer term bias is a bullish one for the simple reason that the monthly MACD is in a bullish crossover stance.  Forget about the FED, earnings, or any economic data.  That simple fact that the monthly MACD is in a bullish stance now means that the market is in a bull phase.
In 2007 to 2008 the monthly MACD was in a very bearish stance and that is why the easy money was to short every rally.  But now this is not the case.  It is just a little reminder I need to write out here in black ink to myself because it is so important.  It is easy to forget when one gets blinded by bad economic news and discussion.
My sense is that tomorrow could be a very big day in terms of points either to the upside or the downside.  Lets see where 6.5 more hours of trading takes us tomorrow.  To me it will be the equivalent of 6.5 hours of a jury deliberating, waiting to deliver the final verdict.