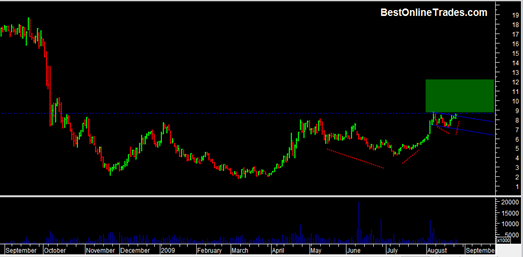 CBL looks like it has a cup and handle setup and if CBL can get a price move above 8.80 I think we could see breakout type action and a continuation uptrend.
CBL probably should have been the first stock I mentioned today.  All the others I have talked about so far today are not that timely.  CBL on the other hand looks like it may get something going this week, if not tomorrow. 
The cup and handle formation is the near term pattern.  But there is a much larger head and shoulders bottom formation that is almost one year long.  Both the cup an handle and the head and shoulders bottom formation lead to a possible price move to 12. 
So I think CBL has a good shot at delivering a 10 percent  to 20 percent move within the next week or two.  If it breaks down tomorrow and falls back inside the blue channel lines then the breakout would be delayed.