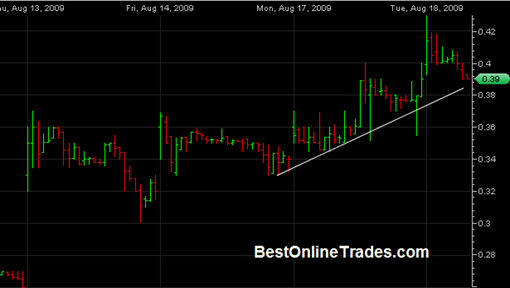 Based on my first mention of CEGE at .38 we had an extension to slightly higher than .42 so far today.  So there was roughly 5 to 10% to be had with this setup.
I am trying to figure out if CEGE is going to get any follow through tomorrow or if this run is done for now.  My read right now is that the run is done short term. The chart above is the 15 minute intra day chart of CEGE and I would say that CEGE needs to hold .385 or higher in order for the near term breakout continuation scenario to continue.  If it violates .385 then I would say this run is over for now.
The other aspect to CEGE which is not clear from the chart above is that .42 was a significant supply area based on previous resistance.  The fact that we are having an intra day reversal today is indicative of that supply coming into price today. 
So I am going to have to make the conclusion that this setup has expired as far as risk reward attractiveness.  There was 5 to 10% to be had today in CEGE and there are better setups out there right now.