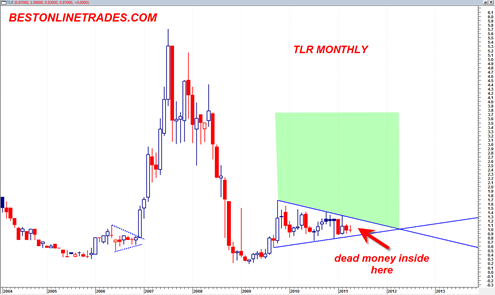 DBLE, the second trade of the Cheetah Trading System seems to be performing well after two days of draw down after entering the trade.  Yesterday 4/21/2011 DBLE had a pull back on 75% less volume and as a plus managed to avoid exceeding the 4/20/2011 high by one penny.  This is good because I like to see strong volume contraction on pull back days without touching the previous days high.  In this case DBLE managed to avoid doing so by one penny.
DBLE is not really a 'big pattern'.  But I only recently decided to focus this first Cheetah trading system on big patterns.  So I am stuck with DBLE for now and if all works according to plan will hope to exit DBLE in the 12 to 13 range?
If I can get an exit on DBLE within the next month or two, I would then like to consider a long entry in TLR, a possible big pattern I have been watching.  Ideally TLR will wait for me until the DBLE trade is finished.
TLR is a highly speculative gold exploration company with transitional potential to a production company by early 2012.  I have spotted TLR as a potential big pattern and will now start to study it like a cheetah in the tall grasses.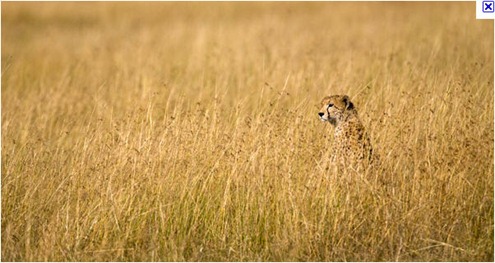 I probably do not have to inform you that the gold price has been hitting record life time highs and will maybe continue to do so for a while longer.
There is not a 1 to 1 correlation between the gold price movement and TLR.  Some production gold stocks have a strong correlation.  I noticed that TLR had a very large move in 2006 and 2007 during a time when the gold price was only modestly trending higher and not hitting new records.
So now the gold price is surging and TLR appears to be 'dead money'.  This is just how this stock trades.  It stays dormant for a long time and then all of a sudden explodes into a new panic move.
Right now it is still dead, but not dead enough for me to ignore.  I will start to watch it like a hawk and have already set some price alerts that will email me when it starts to exceed certain levels.
I would like to enter TLR at slightly higher than $1.00.  I do not want to get in too early because then I risk sitting on dead money for 3 to 5 months.
Assuming I can get a good entry in TLR, I would like to ride it much higher, maybe even to the 5 dollar to 10 dollar range.  This would help build the $1000 meager account into something more substantial on only the 3rd trade of the Cheetah trading system.
I am perfectly willing to wait until early 2012 for the trade to mature.  We are talking maybe 6 to 12 months to achieve a possible 400 to 900%.  With those kind of potential returns, I do not mind sitting and waiting.  The alternative is that I would have to find several big pattern stocks to trade between then and now and who knows if such high returns could be achieved in only 6 to 12 months.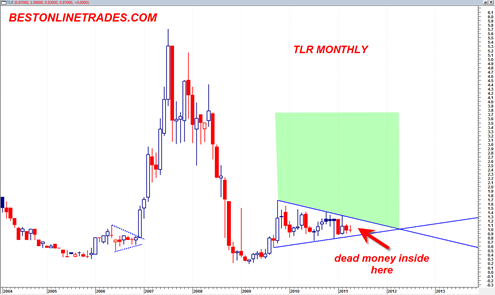 Many times in the past I have ignored the big pattern trades which I had a lot of  knowledge and confidence in, only to focus on the shorter term 'exciting' trades that usually did not work out because I was more interested in the excitement of the trade rather than the sound potential.
But it seems there is always a 'big trade' lurking out there on which I have the highest confidence.  These trades tend to be 'boring' and 'slow'.  But I can tell you from experience that boring and slow is many times much better than fast and exciting.  I would much rather be in a slow and boring trade that slowly guides towards 100 to 500% gains then being in multiple whipsaw trades and non consistent price action trades that barely yield 50%.
TLR appears to have good resource potential and enough ounces in the ground to make this close to a half a billion market cap type play.  Right now it is a micro cap.  When exploration mining companies go into production it can be a sea change event in some cases.  But the exact timing of when any impact on TLR price will be realized is still unknown.
So this is my initial thinking on TLR. TLR is waiting in the wings…I am watching it and am waiting to pounce, but first I need DBLE to start to bear some fruit.
P.S.  The more I think about the big pattern trading strategy the more I think it is maybe one of the best trading strategies to focus on.