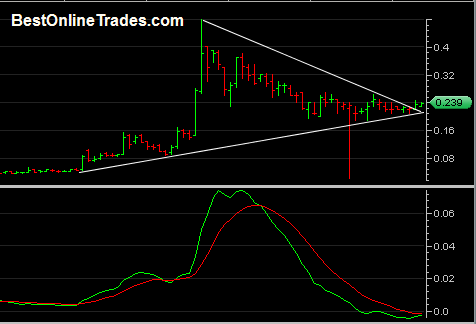 CEMJQ the specialty chemicals company is worth watching right here as I am seeing positive MACD trend as well as sustained support along its uptrend line and also slightly peeking out above its downtrend from a bit more than one month ago.
I believe that Chemtura gets close to 50% of their business overseas.  Don't quote me on that but I believe they have a substantial portion of their business overseas. So why is this important? Well I just wrote about how weak the US dollar index looks.  If the US dollar starts plummeting, then it could have significant currency exchange benefits to CEMJQ and other multi national corporations.
The last time the US dollar went into severe plummet mode, CEMJQ made a 200% plus pop to the upside.  Will it happen again? I don't know, but the chart structure right now is attractive. We are sitting on an up trendline and drifting around near support and above the down trend.
CEMJQ definitely one to keep an eye on along with the US Dollar Index. I am going to follow up on this one down the road to see how this plays out.