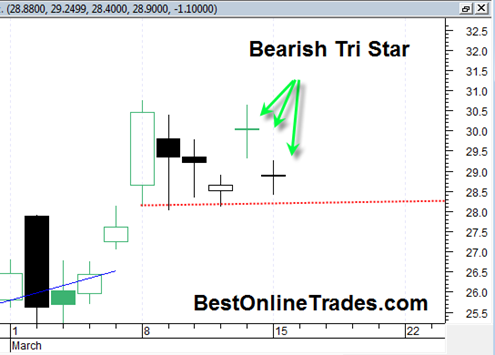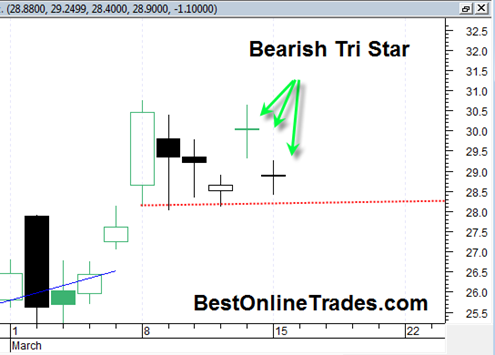 CAGC the absolutely MASSIVE momentum China Stock Play that has been performing like a true champ, today finished forming a potential pattern that should provide a halt to the rocketing share price.
The pattern is the bearish tri star candle stick pattern.  The pattern consists of three candlestick doji's in what looks like a tri star formation and there exists gaps between the top doji and the two bottom ones.
Now I gotta tell you, I would be the last man on this earth to recommend shorting a super strong momo China Stock like CAGC.  However in only 1.5 months CAGC has managed to rise 144% which is astounding.  That kind of move is unsustainable and in most cases needs some kind of retracement before it can continue higher.
A simple 38% retracement of the entire move would put it near 24 and change, a significant down move from here.
CAGC is a very low float stock and so the tendency is for it to overshoot on the upside and then overshoot on the downside in spectacular fashion.  The volatility comes with the territory on this China Stock.
To me, confirmation of the bearish tri star being valid is a break below 28 and change, perhaps as early as tomorrow.  If somehow CAGC manages to hold support here then this could be a false signal.  I doubt that though.  The probabilities are overwhelmingly on the short term bearish side at this point in my opinion.
A deep correction could set up a potential outstanding buy opportunity somewhere near the 50 day moving average in the month ahead.