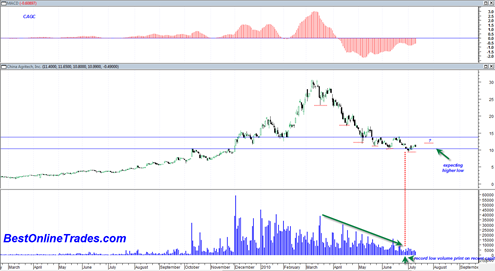 I posted before briefly on CAGC China Agritech Inc as having a good possibility of moving higher to the top of its inverted triangle pattern.  But after looking at the longer term chart and evaluating the risk reward I think I have to conclude at this point that CAGC is a good position trade from this level into the end of the year.
My bullish opinion on China Agritech Inc goes hand in hand with my current opinion that the broad market will maintain a bullish bias going into the end of this year. 
China Agritech Inc. was a HUGE momentum stock in 2009 but then topped out and went into a 70% decline.  It is a still somewhat small company with somewhere north of 100 million in annual revenue and is in the agriculture liquid fertilizer business in China.  The company website indicates that the first and fourth quarter are typically the weakest.  So the second quarter earnings are due in mid August time frame and then of course the third quarter after that.  So we are currently trading in the two quarters the company indicates are not the weakest.
China Agritech is a low float stock and can shift momentum quickly because of the quick float turnover.  The long term chart shows that price has moved back down near the 61.8 retracement level of the entire 'mega rally'.  Also the decline since March 2010 has been persistent but you can see on the chart below that volume has also consistently dropped off right along side it.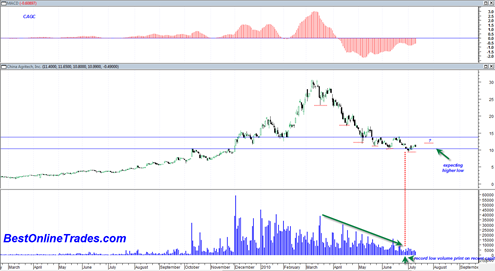 The 10 range looks like reasonably good support and is –10% from current levels.  If CAGC breaks down again under 10 then I am wrong.  But if it can hold here and maintain itself flat to higher then I see a higher low in the cards and a new rally making for a possible ideal position trade going forward.