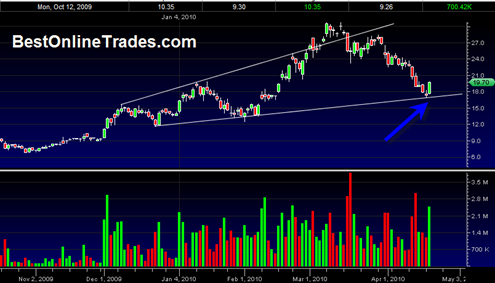 China Agritech Inc CAGC has pulled back all the way to the bottom of its broadening wedge formation and it did it a lot sooner than I thought it would.  I indicated in a previous post that China Agritech has a habit of being just as volatile on the downside as to the upside.
CAGC was way overdue for some type of pullback given its recent 130% super move in just a month and a half to the upside.  Then some insiders started selling and I believe gross margins started to slip a little bit and so people started dumping shares.  It is probably a true statement to say that when any company gets near a 500 million dollar market cap it enters a new juncture where it must prove itself and show that it is ready to enter mid cap land and be able to continue to sustain growth despite the competition.
I don't know whether this will be the case.  But I do know that CAGC has touched the falling wedge support and so far today has shown a nice price reaction off of this support.  The recent two candlestick bars also appeared to be a morning star candlestick pattern which is a reversal pattern.
Ideally, CAGC will pull back tomorrow within today's candlestick and create some type of reversal bar to set up a better opportunity for the long side.
I don't believe CAGC will just touch this bottom supporting line just once like that.  Usually there is a little bit of give and take before you get a true reversal going.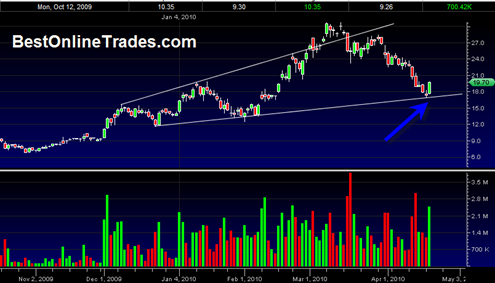 Key important upcoming resistance is the 23.03 level.  Breaking back above and through there could be a sign that CAGC is ready to head higher in a new uptrend again.