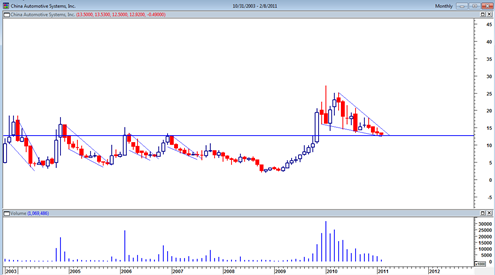 China Automotive Systems is an automotive parts supplier and according to their website is the leading supplier with 15% market share.  They may be a leading supplier of automotive steering systems and other parts, but this market is also quite fragmented.  Still China is well on its way to becoming and continuing to be the world's largest auto nation in terms of annual sales.
CAAS has been in consolidation mode for over a year now in the form of a large monthly falling wedge.  This appears to be the 'personality' of this stock as it has done so several times in previous years.  In some cases price was able to squeeze higher out of these falling wedges, but in a few cases price just kept drifting lower.
Right now the stock is at a supportive range of 12.7 but it really must hold above 12 during the next 2 months to support the possibility of an upside breakout through this falling wedge.
The stock currently has a high short percent of float position of about 18%.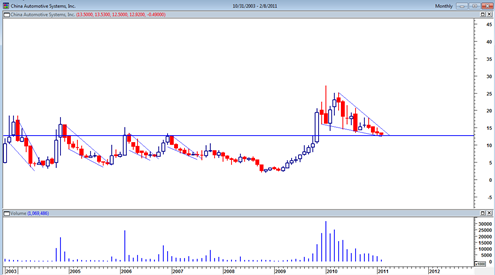 If CAAS can hold above 12 support range during the next two months then it may try to start a breakout above this falling wedge.  The risk is that it just keeps drifting lower which it has done in the past.  But if a short squeeze and a breakout from this falling wedge were to occur it could imply a move back up near the mid 20 range eventually.