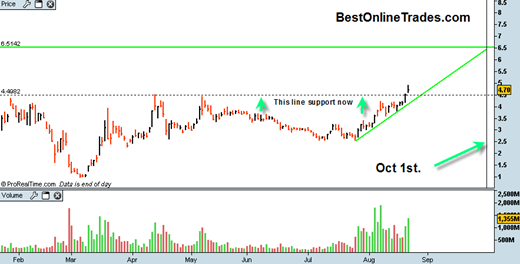 The pressure was on Citigroup to deliver a breakout above the 4.50 level on greater than 1.22 billion shares.  Citigroup delivered handily today with a nice sign of strength breakout on 1.35 billion shares.
Now the 4.50 level becomes new support and there still exists this bright green up trend line which should help support price into the 6 to 6.40 range which I consider to be an ideal target and eventual exit point.
I would like to see 4.50 support hold on a retracement down next week which has a good probability of occurring.  On the other hand, it would seem that traders are in no mood to go on vacation this August and September judging from the super high volumes I am seeing in many stocks.  Perhaps they are all trading multi million share blocks from the beach using their iPhones or something?  Of course I am kidding, but it is quite interesting to see the big volumes and price advances during this time of year.
If Citigroup is lucky enough to be able to maintain strength above the bright green up trendline in perfect fashion then it has a good shot of reaching my suggested price range by 1st of October 2009.
I indicated in my previous post on Citigroup that there was not much resistance on the left side of the chart and that could support more ease of upward movement in the price.  That continues to be the case.
It would be appear that a good portion of the entire tradeable float was bought up during that blockbuster volume accumulation during early August as Citigroup has about 5.5 billion shares tradeable float.  So I would think those buyers whomever they are want to defend their position and mark up the price asap :).
A very interesting day today for the broad market and Citigroup as well!