For about half a year I have been watching and observing the Coca Cola stock price. Needless to say this is a very slow moving stock and for good reason, it has 2.25 BILLION shares in the float. Definitely a beast or dog to the hot blooded trader. However, what I am about to tell you may change some of that perception.
I Believe Coca Cola is about to enter a New Bull Market!
New bull market you say? But why?
I am talking strictly from a technical perspective ( as usual). The fact is that Coca Cola stock has been in a downtrending channel for the past 7 and 1/2 years. In other words this 'famous' stock has been in a severe bear market for quite some time. When I see a stock or index in a bear market for that long it usually starts to get my attention. The act of any security going down persistently for this length of time slowly creates a better risk reward scenario. The better risk reward scenario really comes to fruition at the point when the accumulation stage is about finished and the new mark up can begin.
Identifying the end of bearish trends of any security can be very tricky because bottoms generally take much longer to complete than tops. So the jumpy trader is at risk of entering too soon thinking he has found bottom, only later to realize a loss or whipsaw action as price continues to base out in a channel.
I suppose from the fundamental side one can come up with all sorts of reasons why 'Coke is dead' and should be avoided at all costs. The move towards healthier diets and the goverment crackdown on overweight children is just one of those reasons. I still drink some type of coca cola beverage at least once a week.. Should I? Well probably not, but damn it sure does taste good 🙂 Is it the best for my health? Well, probably not, but you only live once right? Might as well have a little enjoyment while we are all still here..
I remember reading the book, "For God, country and Coca Cola", in my dusty old apartment at college. At the time I had a headache, was generally not feeling too well and was tired from a long day of studying. I was sitting there reading the book and learned how this company grew from a seedling to what it has become now. It was quite an interesting read. The book talked about how the first version of Coca Cola was supposed to cure headaches, make you feel better and refreshed, and give you new energy. While reading the book and drinking a couple cans my headache went away, I started to feel better and started having quite an uplifting mood! It could be that the act of reading this interesting book helped activate the change in me, but probably most of it had to do with the secret ingredients inside that can.
Coca cola still has massive branding power. Going forward let us not forget that World Cup 2006 in Germany is coming up, the worlds most watched sporting event. Coke is a sponsoring advertiser of the cup which starts in June 2006. We also have a warm summer coming up? And maybe it will be a hotter than normal summer? I don't know, but it is possible. A very hot summer and a very hot World Cup 2006 in my mind at least can only help lift the mood of Coca Cola investors.
Of course these are all subjective opinions, not technical ones. My technical opinion does confirm my subjective ones however.
As previously mentioned, Coke has been in a long bear market. But I believe Coca Cola stock is about to break out (bullishly) of a 3 YEAR symmetrical triangle with price volatility. In order to validate this breakout I need to see (and expect it) wide price spread and sufficient volume.
Take a look at the chart: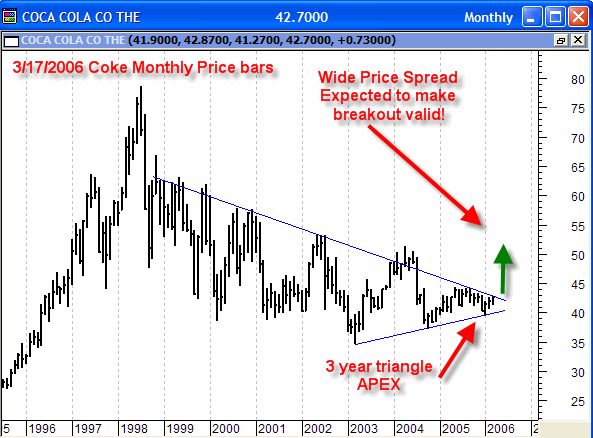 This is such a beautiful chart is almost makes me want to cry 😉 . Part of the reason for this is the longer term duration of the chart. The longer the time frame the better and the bigger the implications of its resolution! I believe the breakout and much higher price volatility is very close! A wide price bar and sufficient volume would VALIDATE a breakout from the 7 year downtrendline and launch coca cola into a NEW bull market! I expect all of the above to happen.
But when?
It is entirely possible that the big move will happen as we go into the end of March (end of this quarter) and begin April (begin of next quarter). End of quarter and beginning of next quarter window dressing should help the cause of this breakout.
Money to be made in Coca Cola?
I think the best way to make money on the new bull market in Coca Cola is through a longer term call option. the January 2007 , 50 Call option on Coca Cola seems reasonable. Right now it is trading at .30 to .35 With the expected increase in volatility, I think we could see at least another 30 cents premium added to this call from the upcoming expected volatility.
I believe this is an outstanding opportunity in Coca Cola and as of this posting rate it with pretty high confidence. Aside from the option trading opportunity, long term investors worldwide should be alerted to this stock as a potential buy and hold for slow and steady gains in the year ahead.