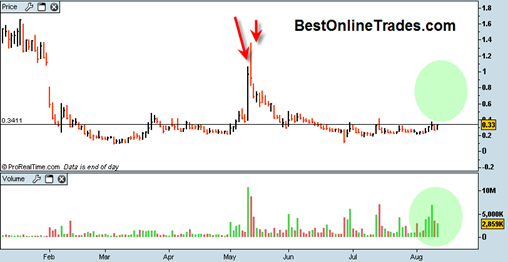 CORS is an extremely risky type of play.  But without risk, then how do you get reward?  Anyway, I think this bank stock could possibly get a big pop soon, maybe even within the next 2 days.  There is a huge short position and to be sure there are all kinds of trading games going on with CORS.
But I do like the recent much heavier than normal 5 day advancing volume, but admittedly without too much price follow through.  CORS has been flat for about a month and a half and it is perched right under a longer term resistance level.
It had a huge 2 day spike rally in May that blew out the comparative gap down volume price swing that occurred at end of January 2009.  So that is a positive sign.  Many times price likes to go where previous huge volume swings occurred because that is where the previous demand was.  It can be like a magnetic force.  So I would not be too surprised to see a move back near the 1.00 level at some point.
First CORS needs to get above .33 and close up above that level.  I would prefer to see a full price bar above .33 as a signal that a big pop could start.  I think we have a good shot at the beginnings of a breakout type move tomorrow and then maybe a low volume pullback Friday, and then the real run early next week sometime.
Trying to predict breakouts to the exact day is no easy task.  But getting meaningfully above .33 will be the first guidepost that my timing is right.