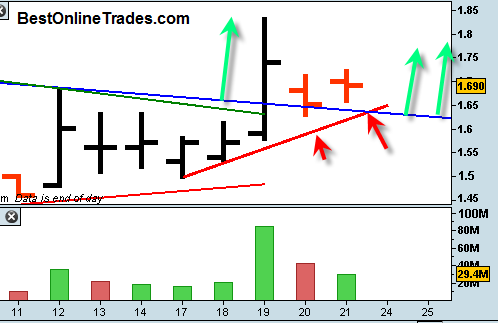 There is not too much new to say about CTIC today other than the fact that it is still doing what it is supposed to do.  CTIC held above both the original blue longer term resistance line (which is now support) and it also held above the shorter term red minor trendline.  This is important because if it goes below either of those two lines next week there may be a problem with the continuation scenario.  Next week ought to really provide the verdict on what CTIC really wants to do.
Right now it is still teasing us here after the initial successful breakout on the 19th of August that occurred on bombshell upside volume.
So in summary, we still have a green light signal on CTIC, but I would really like to see it pick up steam early next week.  It just makes me nervous if CTIC spends too much time hanging around this near term red up trendline.  So lets hope for more decisive continuation moves next week.