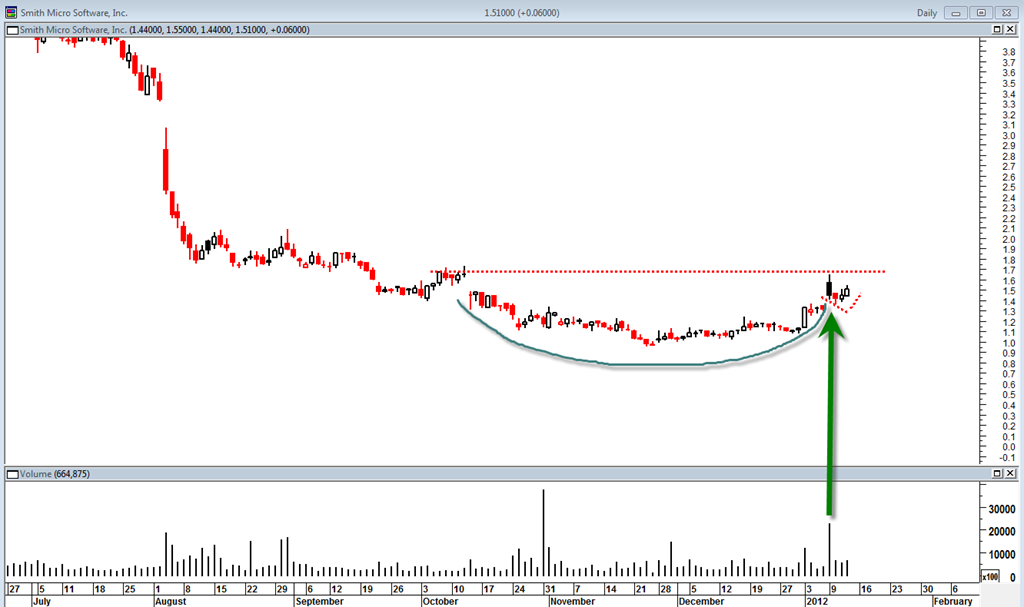 Authors Note: This was originally posted on 13 January 2012 and is being included here to update the BOT archives.
Best Online Trades did another cup with handle pattern scan several days ago around January 10th, 2012 and SMSI came up in the scan.  SMSI is Smith Micro Software.  By first appearances SMSI looks like it is a 'junk stock' because it is trading in the dollar range and has previously traded in a pattern of seemingly endless lows.
Best Online Trades does scans for cup with handle pattern charts.  This is only half the battle.  To be honest, a lot of the scan results that come up are not ideal.  After a scan list comes up it is required to apply human judgment and trader's experience to evaluate if the stock has merit or not.  There are a number of factors involved in determining if a stock has 'merit'.
In the case of SMSI I came to the conclusion that it does have merit based on the volume test of a previous very important opening gap down.  SMSI in addition to having a cup with handle pattern is showing a volume change of character and puts greater odds for more upside advance.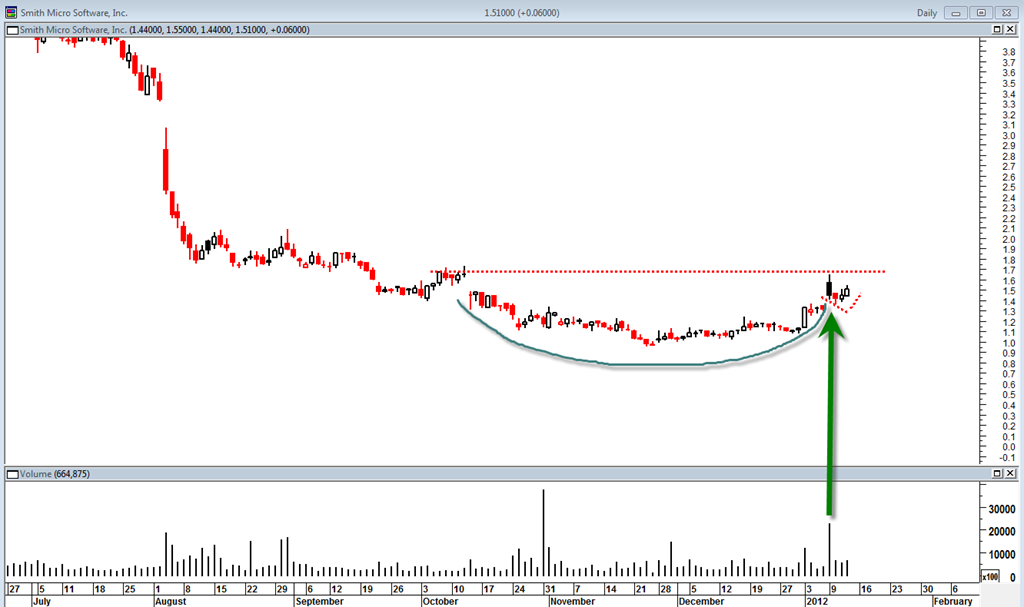 Since SMSI came up in our pattern scan on January 11, 2011 SMSI is up 13% as a result of today's rally and challenge of important resistance.
SMSI is quite a promising looking chart and may have some extended move left in it.  Especially if it can eventually clear 2.10, it would open the door to a gap fill in the 3.0 range.  But for now the most formidable challenge is the 1.7 cup and handle resistance zone.
Note: Best Online Trades does scans every market trading day on the daily, weekly and monthly time frames.  New cup with handle pattern setups are RARE and do not tend to occur very often.  The style of cup with handle pattern dot come is to attempt to identify a few good candidates per month assuming market conditions are favorable.