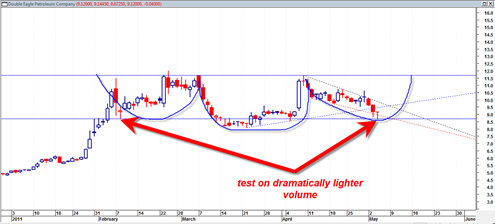 DBLE, the second trade of the Cheetah Trading System is on life support right now.  The Cheetah Trading System is currently suffering a very heavy draw down of 16 to 18% because of an entry at 10.5 many weeks ago.
I really find myself in an unusual situation and it may speak to one of the flaws of this experiment.  I mentioned before that trading with an initial small amount of capital probably requires that in the early going not too many top losses or actual full round trip trades are triggered because it can really start to hurt an account with a starting value of $1000.
But this thinking at the same time has caused me to take a much larger draw down than I would ever even normally consider in the past.  Usually in the past I am out very quickly at the slightest hint of under performance.
But with DBLE I have been sitting on my hands and watching it crater perhaps because of my stubbornness to avoid commissions and the desire to get the account moving up in the early going.
Anyway, so here I sit now still in DBLE and today it did a hammer reversal.  The recent decline has been on light volume.
The other problem is that earnings are coming out tomorrow in the AM. So there is a real risk that this drawn down can turn into a disaster tomorrow.  If we break below the low of 8.67 tomorrow then I have to qualify DBLE as being in a new down trend.
So I will have to sweat it out and see what happens tomorrow.
A bullish perspective would say that today we did a retest of the left shoulder of a head and shoulders bottoming pattern.  And that today's swing low tested the left shoulder swing low (tested it by only a few pennies) on dramatically lighter volume.  This would suggest that we are at the bottom of the right shoulder right now and then would trade back topside to the 11.60 range.
There is a longer term pattern on DBLE that may just keep me in it no matter what happens.  I really hate to take a 20 to 30% loss on only the second trade of this supposed winning system

.  So will have to see what a roll of the dice shows tomorrow…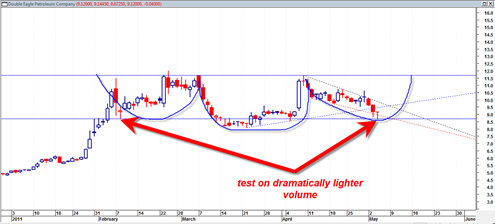 If I am very lucky then tomorrow DBLE will react higher and close above the high of today, then create a bullish triple P on the MACD histogram and then confirm the bullish triple P next week for a new daily buy signal…