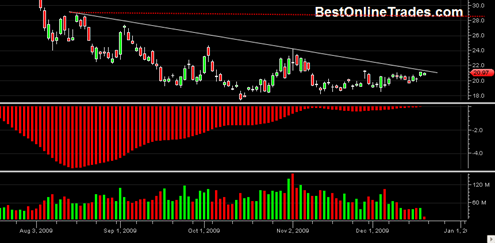 The FAZ Triple Inverse Financial Bear ETF looks extremely attractive to me right now based on everything I am seeing in the market.  The UNG performed as expected and is now getting to be a tired trade already and I suspect it will pull back some before building higher down the road.
But now the FAZ has flashed all sorts of buy setups and looks very good to me going into next week and end of year and early January.  I think we could see FAZ blast higher into the high 20's range during the next 1 month time frame.
As I indicated in a previous post, the WEEKLY MACD has now turned down on the SPY and the SP500 index.  That means that the market will have weekly bearish headwinds going into next week.
In addition, and also mentioned in that previous post I have seen numerous very bearish candlestick formations and patterns (bearish tri star, tweezer top, gravestone doji).  While these patterns are not a guarantee, but more early warning signals needing further confirmation in future price action and market behavior.
And even completely forgetting about market indicators or signals, how about just a little common sense.  After 8 or 9 straight months of almost near vertical price movement, one would think that some big players want to unload their very FAT winning positions and take some profits to lock in gains before the end of the year?  I mean give me a break, a paper profit is not a real profit until it is sold and in your hand.  So I think that dynamic is at play going into end of year as well.
The nature of this price decline and correction is going to be very interesting to watch assuming I am correct that it is starting now.  Some are still looking for a panic and very fast hard down type correction.  I cannot rule that out given the quite bearish implications of that bearish tri star pattern.
So I am picking on the FAZ because the financials are the weakest sector out there right now and so the inverse ETF ought to be one of the best performing on the way up.  The low volatility in the FAZ during the last month has been almost mind boggling.  The FAZ is triple leveraged and yet it has barely had any range for a month and volatility has all but disappeared!  I think that is about to change however.  If you look at the bollinger bands for the FAZ they are pinched very tightly now but on the verge of expanding.  So a new volatility phase could start with the FAZ soon.
Lastly, take a look at what the UUP did back in 2008 after it had formed a bearish tri star.  I am not saying that this will happen with the broad market, but I cannot rule it out.  Especially with a PERSISTENTLY higher spiking dollar that spooks and shocks the market in short order.  That could be a scenario for rapid unwinding of positions and the panic of trying to lock in profit from such enormous gains since March 2009.
It is also interesting to note that the bearish tri star that formed in the UUP where the red arrow is pointed also coincides with the MACD in a very similar stance to where the SP500 is right now near the zero line.  So if we are following the same map then perhaps we will get a similar severe plunge as the UUP did.