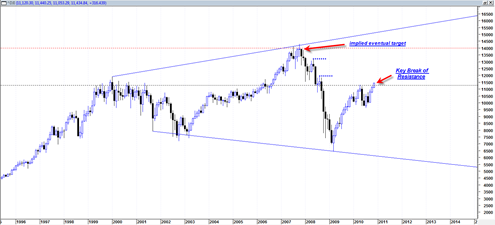 Today the Dow Jones Industrial Average accomplished a key milestone.  It broke back above and into the very important resistance range that has defined a top for the DJIA several times before.
If the DJIA is able to hold a weekly, monthly and then quarterly price breakout into this range, then it implies that the DJIA should eventually make a move back up to 14,000 which is close to the 2007 all time high for this index.
The DJIA appears to be trading in a very large broadening wedge formation that has been expanding over the past decade. 
Whether or not the DJIA will be able to ascend to such heights again may depend on how serious a problem inflation becomes down the road.  If we continue to map out the 1975 pattern, then it would suggest that we continue to surge higher into 2011 but then reach some type of sideways plateau for an extended period of time.  This is just an early speculation at this point.  It could be that this time around inflation and inflationary expectations are managed, instead of getting out of control.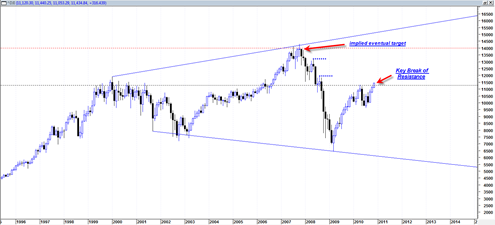 A move in the DJIA back up to 14,000 would correlate with a move in the sp500 back up near 1500 which is also close to the old 2007 top.  These types of extreme moves seem counter intuitive.  But in an environment of potentially heavy inflationary pumping, one should expect severe market extremes in both directions.
We are dealing with massive trading ranges and they key is to try to identify the major turning points and the major continuation points so as to stay on top of the primary trend.  Right now I believe we have activated a significant continuation point after having consolidated since the April 2010 top.