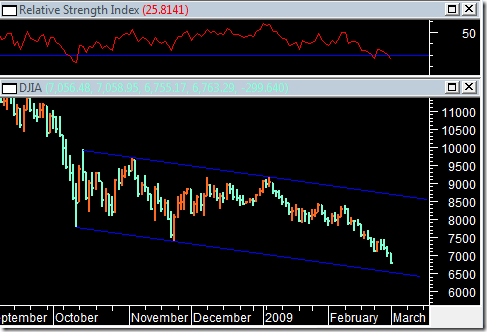 The Dow Jones Industrial Average is extremely oversold on the monthly chart.  In fact it is so oversold based on the 14 day RSI it is one for the record books.  I see an oversold reading of 17.5 on the monthly chart.
To put this in perspective, the value of 17.5 on the monthly chart is the lowest reading since as far back as I have data, or 112 years ago.  The speed of this bear market decline is what is the most astonishing.  But the speed of this bear market decline has caused the monthly RSI to become oversold very quickly.  Looking at the chart below you can see that the current Dow Jones Industrial Average is the most oversold in at least 112 years.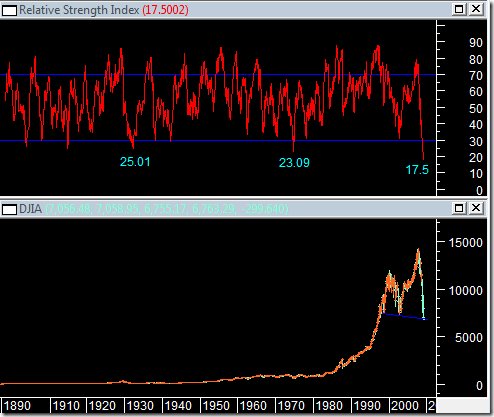 If you compare the monthly RSI values on the DJIA for 1974 and the bottom of the 1929 bear market you get readings of 23.09 and 24.01 respectively.  I think this helps put the entire decline in perspective.  Keep in mind though that just because the RSI is 17.5 does not mean it cannot go lower.  It it just that the probability of it going much lower is less at this time.
If we zoom in and look a bit more closely at the Dow we can see that it has been trading within a channel and that we are currently fast approaching the bottom of the channel.  The bottom of the channel is roughly only 150 points away. Given how far we have come and how fast it seems reasonable to conclude that we will hold this channel support.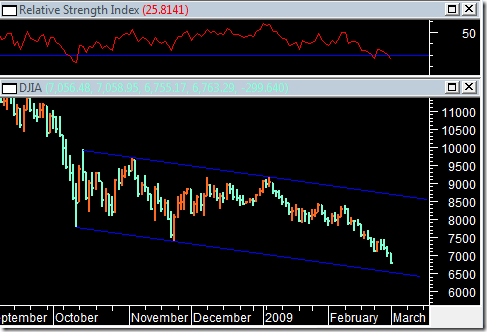 In addition Larry Pesavento indicates there are some strong positive astro aspects that kick in later this week.  It just seems we are getting close to a very big reaction rally that might be sustainable for a month or two or three.  But key is that the Dow holds within this channel by mid week.
What would cause such a rally to ensue?  I really do not have a clue.  Sometimes the market just gets so oversold that the spin becomes that stocks are 'good values' now and so they bid them up and it starts feeding on itself.
This is about as critical a week in the market as I can ever remember.