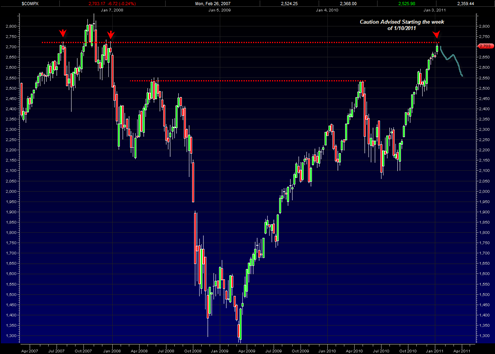 Based on the weekly DJIA chart we can see that the DJIA has formed a minor weekly topping tail right at previous key shelf resistance.  This should be an important clue that the market is ready for a reversal from this supply area.
I think it is still possible we could test the 52 week high in the DJIA but if we do then I would expect to see a sharp reversal again and preferably a next week closing that is near today's range or lower.
In April of 2010 the DJIA hit the underside of the 2008 resistance band and it led to the May 6, 2010 flash crash.  It is unknown whether or not such a deep correction would occur again, but it seems clear to me that the greater risk is towards the long side right now as we are at this key supply resistance range.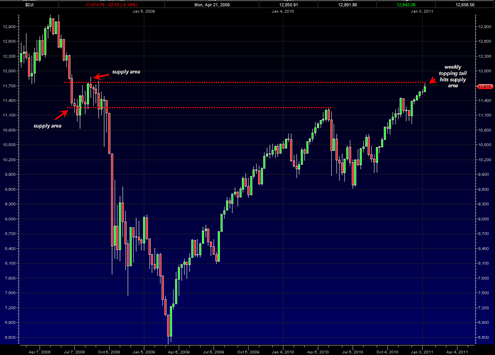 The Nasdaq Composite weekly price chart is also telling a similar story to the above DJIA chart.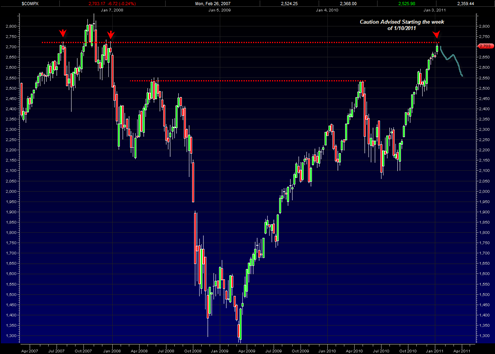 The Nasdaq Composite Index has also hit a very key resistance range and while it is possible we could see another 20 to 25 more upside Nasdaq points, I doubt we can build more ground higher than that next week.  I think we can easily see a correction in the Nasdaq to 2535 without harming too much the bull market up trend.  So 168 probably Nasdaq points down versus another possible 25 Nasdaq points up?  I will take that risk reward setup any day…
My take is that the markets will 'find a reason' to sell off next week.  Perhaps it will be a 'sell the good earnings news' situation again.  If we do not see it happen by end of next week, then certainly I would expect it to take hold the week thereafter. 
BestOnlineTrades advises extreme caution on the long side at this time.  The risk of downside price action greatly outweighs upside possibilities at this point in my opinion.