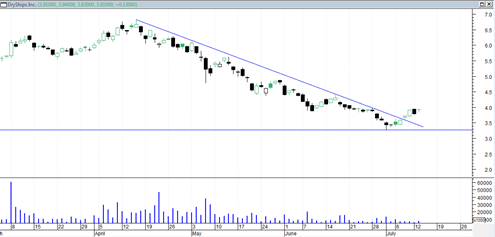 There are so many buy setups right now it is not even funny.  A very long time ago I did a post on how DryShips Inc was headed for a triple bottom.  As it turns out the triple bottom never arrived.  Instead DRYS broke through the downtrendline indicated at the link above but then just meandered sideways to flat for a very long 8 months or so.
But more recently DryShips Inc went into a mini death spiral and actually did create a triple bottom test and did so with an interesting characteristic.  The recent mini death spiral was done with a series of persistent but very narrow range candlesticks showing there was less interest in the decline and the speed and conviction of the decline was definitely lacking.  It was also lacking in terms of volume and you can see from the chart below (a weekly price chart of DRYS) that the recent retest was done on comparatively less weekly volume than the two previous retests.  That is another bullish sign.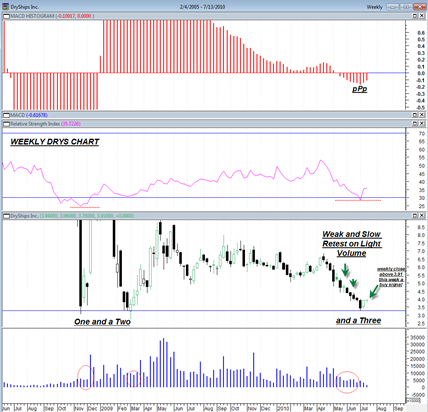 We also have weekly RSI just above the 30 level and starting to turn up and creating a higher low than the first bottom.  There is a bullish triple P on the weekly MACD histogram which would be confirmed on a weekly close above 3.91 this week.
Also DRYS just recently on the daily chart broke up and through the near term down trendline.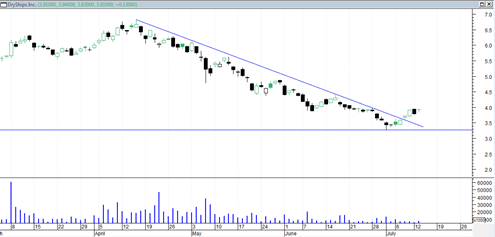 DryShips Inc looks like it has room to move up to 5 before it starts to get into more heavy congestion.  There appears to be a correlation (definitely not  perfect one) between DRYS and the price of oil.  The huge mega run that DRYS had in 2007 to 2008 correlated nicely with the huge surge in oil to 145 a barrel.
Recently Crude Oil Futures have been going sideways for quite some time perhaps building bullish cause for a renewed move higher into eventually 120 range.
So DRYS could get some wind it its sails with a new move in Crude Oil and a completion out of this base.  Bear market bottoms sometimes take a very long time to complete and DryShips is no exception to the rule.  I would not consider DRYS to be completely out of the fog until and if it is able to break higher than 5.5 level.