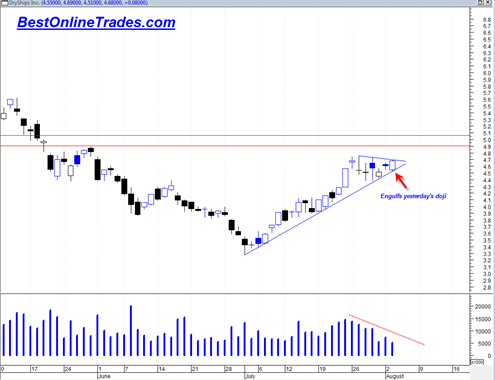 I did a write up on DryShips Inc DRYS triple bottom a couple weeks ago at a price of 4.06 indicating that it could get a move towards 5.  So far since that posting it has been up as much as 18% hitting a high of 4.79.
It has been trending higher strongly and I suspect the big move up in the crude oil price recently is helping a little bit.
Right now it is trading in a tight pennant formation and also right alone its recent steep up trendline.  I suspect that DryShips Inc has a little bit more juice left in it and could travel to either 4.9 or 5.05, two previous resistance levels.  That would equate to 5.4% and 8.6% upside move respectively.
DryShips Inc needs to trade at 4.7 or higher tomorrow as a first indication that a continuation move out of this pennant has initiated.  Ideally one would want to see a signficiant expansion in volume relative to the last few days of trading.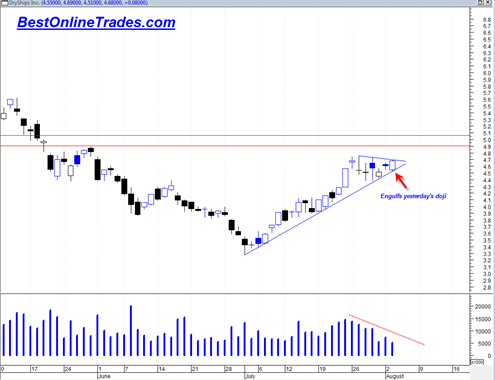 DRYS is trading along a very well defined uptrendline and any move under this uptrendline is going to mean more downside correction action is about to start.  But if DryShips Inc elects to move and jump above 4.7 I can see it make a run for one of the two targets mentioned earlier.
The very longer term monthly chart shows that DRYS has long term bear market  resistance at about 5.10 to 5.15 range.  Getting above these levels in the months ahead could mean a new bull market trend in DRYS.