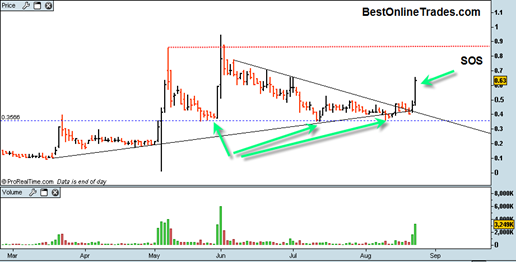 I had mentioned EPEX a few other times casually because I though it had some good potential based on an important volume swing test in early June and early May 2009.
When I first started writing about EPEX I was intrigued by the substantial high volume swing test that occurred on June 1st.  That was a very important clue as to the behavior of this stock because it was telling me that we would have a good chance of revisiting those levels.
But when I first mentioned it on July 28th, 2009, the price was languishing in a somewhat choppy confusing price pattern that seemed like it was going nowhere.  Despite the confusing price action there were still well defined resistance lines and support lines that contained price and gave good parameters to work with.
At about mid August EPEX tried to get a breakout going and briefly held above the down trend force and then as recently as Thursday of last week price broke back down under the resistance line and appeared as if a total failure was about to occur. This was not to be the case as EPEX bounced back up on Friday with a nice surge and volume and then today triggered at .50 or higher to initiate an approximate 37% move from Friday's close.
I still think EPEX has a decent shot at .70 to .85 cents, but the entry was at .50, not where it is now…
EPEX serves as a great example of a stock that gives an early hint of a high volume swing test, then goes into a long consolidation but fails to break out support and a triple bottom, and then tries to breakout the other side in a reversal.
If a stock is unable to break out the previous highs, then it will try to break down through the previous lows, and if it cannot break the previous lows, then it will try to break out the previous highs again.