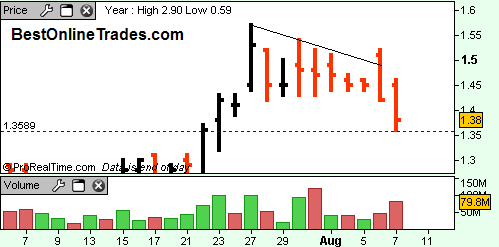 Have you noticed how a lot of financial talk shows or internet sites seem to never mention the stocks or setups that turn sour?  Or maybe they only talk about the winners or how much percent they are up for the month or year.  I actually think it is a good idea to revisit setups that failed and then to try to figure out what went wrong or why it did not work out.  If we don't learn from the failures then how are we to learn about what makes a good setup versus a bad one ?
Etrade ETFC is a failure.  I don't mean their business is a failure.  The setup I initially talked about is.  Etrade Financial broke down today on pretty heavy volume and this on the same day the rest of the market was up very strongly.  I don't like to see a break down like this in light of such market strength today, and also to see it with such heavy volume.
Looking at the chart, one might have gone long yesterday August 6th right near the open slightly above 1.50 because it looked as if ETFC broke free from resistance and wanted to get a continuation rally going.  As it turns out, ETFC soon thereafter started to fall apart and break back under its resistance line.  Had one been long near the open, the prudent thing to do would have been to sell right away on the break down under resistance yesterday. 
There was no follow through and something else is going on.  ETFC is not ready. Not yet anyway.  Price has now pulled back to support and I can't speak to whether or not support will hold.  ETFC also managed to break the minor uptrend that was defined since July 10th. Not good. Maybe ETFC can still get some kind of a rally going later in August (but it really should not go even 1 penny below 1.36 for all of August), but for me this one goes in the garbage bin.  There are better fish to fry.  Maybe the market does not believe their recovery talk, and you know what? The market is usually right.
So with the luxury of hindsight ETFC was a bad setup because…:
When ETFC broke out north out of its falling wedge it was not wide enough price spread to give enough confidence to the breakout.
ETFC had two large gap downs on very heavy volume within this pattern and was a severe sign of weakness.  This type of damage is not so easily or quickly recovered from.
ETFC has all kinds of heavy congestion on the left side of the chart that is not so easy to break through.
The larger structure still has lower lows and lower highs.