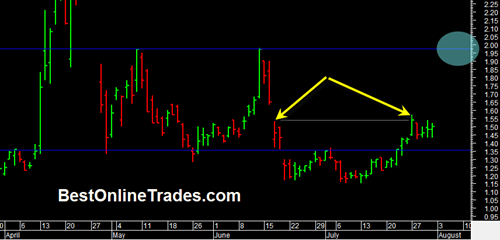 I continue to like ETFC Etrade Financial here.  I like the way it pushed into the gap on 20 million extra shares (illustrated by the two yellow arrows).  To me that is a bullish sign.  It has also managed to break through the bottom blue line which represents the bottom portion of this trading range which should act as support going forward.
The fact that price was able to break back into this trading range is very bullish indeed.  After it broke through and down the blue support line near the 1.35 level, the price of ETFC was supposed to continue falling and continue making bear market lows under 1 dollar.  But the bears could not accomplish that and price recovered back inside the trading range.  Now it has been flat lining sideways.
If ETFC can hold these levels with a worst case of a quick retest of the blue support line at 1.35, it could lead to a large run near the 1.95 level which would be an ideal exit point.
ETFC still has a high short interest and that could be significant fuel for a big move into top line resistance.
I am considering some possible call option plays on ETFC, but my main concern is the possibility of flat to sideways prices in the traditionally slow month of August.
I am going to be watching ETFC like a HAWK during the first week of August to see if I can get a sense of when it might be ready to move.  We could see it go sideways for another week or so until it hits the point of its current short term up trendline.
I'll do a follow up on Etrade sometime this week.